Kreston adds member firm and rebrands another in the Netherlands
Global accounting and advisory network Kreston has seen two changes in its Dutch footprint. Maastricht-based A&D Accountants has been admitted into the network, while existing member firm ALH van Herwijnen & Co has rebranded as Van Herwijnen Kreston.
Kreston's presence in the Netherlands, the largest economy in the Benelux, consists of member firms Bentacera (six offices in the country), Kreston Grip (two offices), Kreston Lentink (two offices), Kreston Syncount, Van Duyn Van der Geer, and Van Herwijnen Kreston. The latter firm, based in Tiel, is the latest of the Dutch member firms to adopt the Kreston brand, also adopting the network's 'Knowing you' strapline.
"Branding as Kreston will raise our profile regionally and help raise that of the network across the world. Working across time zones in many regions, we can, together with our Kreston partners guide our clients to success. We are confident that if a client needs advice that stretches beyond our own expertise – or territory – we can find the right partner to help. We aim to be as close to our Kreston members as we are to the clients who value our counsel," said Managing Partner Martin Hommersom.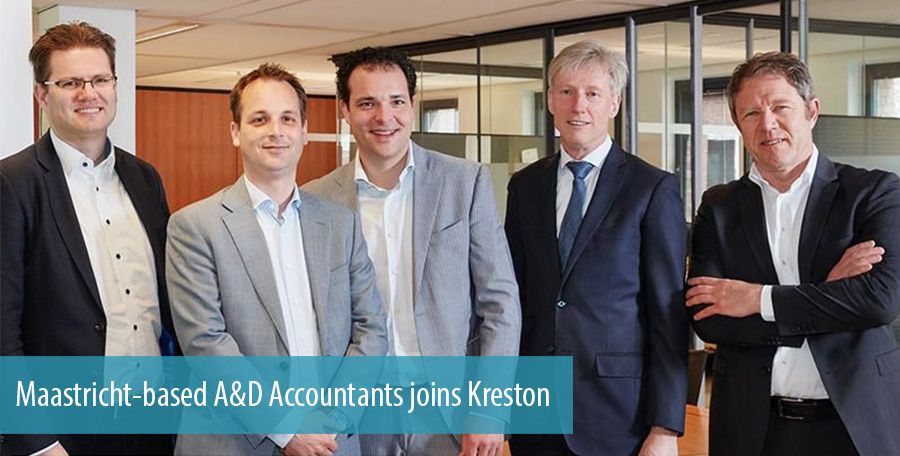 In April Van Herwijnen Kreston bolstered its ranks through the acquisition of ABC Lingewaard, which is located in Gendt, taking the size of its team to around 45 employees.
New member firm
Meanwhile, Kreston last week added a seventh member firm to its platform in the Netherlands, in the form of A&D Accountants, an accounting, audit and advisory firm from Maastricht. A&D Accountants has three partners and 25 staff based in two office locations. "It is excellent to be admitted as members of Kreston International. The admission process has been seamless and we are looking forward to developing productive and beneficial relationships with our fellow members in The Netherlands and the global network," remarked Joep Versteegh, of Managing Partner of A&D Accountants.
Jon Lisby, Kreston's CEO, until August this year when he passes the baton over to Liza Robbins, said: "I am delighted that our group in the Netherlands continues to grow and to build a quality collaborative network in the region. Maastricht is a good geographical fit with our existing firms and we now have outstanding representation in over 14 major locations. Our thanks go to Martin Hommersom of Van Herwijnen Kreston, who coordinated the recruitment of the firm on our behalf."
In other deal activity in the Netherlands, Deloitte Netherlands acquired tax consulting and software company Tytho and Dutch SAP supply chain consultancy AEPEX, while Scandinavian management consultancy touched down in the country through a joint venture with local player Boer & Croon.