BearingPoint adds 10 new Partners in Germany and Switzerland
International consulting firm BearingPoint has confirmed the appointment of 10 new Partners in Germany and Switzerland. Reinhard Geigenfeind, Yvonne Quint, Giso Hutschenreiter, Olaf Remmler, Marcel Tietjen, Christoph Steens, Thorsten Vogel and Frank Tiefenbeck make up the German contingent, while Marco Kundert and Pompeo D'Ingiandi have both achieved promotions in the firm's Zurich office.
BearingPoint is an independent management and technology consultancy with European roots and a global reach. Officially launched as a brand in 2001, the company operates in three units: Consulting, Solutions and Ventures. The global consulting firm enjoyed a bumper year in 2017, with revenues up by 12% compared to the previous year to a record level of €710 million, and profitability up by 18% year over year. As the firm looks to kick on in 2018, the consultancy is also preparing for a period of change at the top, following the stepping down of long-standing Managing Partner Peter Mockler, and the succession of Kiumars Hamidian into his previous role.
Now, the firm has announced further changes, with the release of a new roster of Partner promotions, as BearingPoint looks to reward the good work which has seen it thrive in recent years. The firm's Partner count has been boosted by the elevation of 17 individuals in total, as 14 Partners have been internally promoted, while a further three have joined the consulting firm. These include, five in France, one each in the Netherlands and in the UK, and 10 in Germany and Switzerland.
BearingPoint's new Partners in the latter region are predominantly based in Germany. The firm's offices in Düsseldorf, two in Hamburg, Munich and Berlin have each seen the addition of two new Partners, while the Swiss office in Zurich has seen its Partner count grow by two.
Speaking on the changes, Peter Mockler, who is remaining as BearingPoint's Managing Partner in order to help Kiumars Hamidian with a smooth transition, said, "The admission of 17 new Partners is a testament to the ongoing success and growth of our business. Each of our new Partners has a strong track record in delivering projects to our clients. Each has displayed strong capabilities in creating client value and demonstrated commitment to excellence in service delivery. All of them are effective role models for our values and principles. I am also pleased that 29% of our new internally promoted Partners are female. This is an important step to achieving our 2020 target of having 20% female Partners."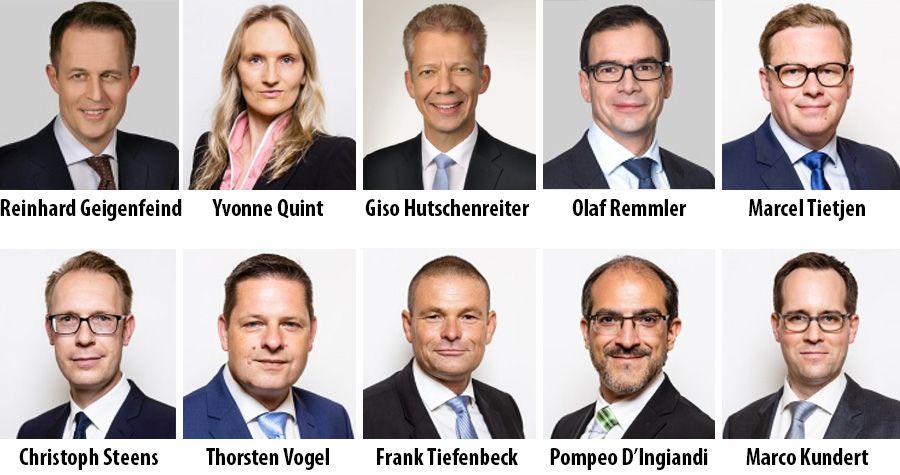 The new Partners in Germany and Switzerland:
Reinhard Geigenfeind
Office: Frankfurt/Germany
With BearingPoint since: 2018
Areas of responsibility: Government and defense, IT consolidation, IT security, analytics
Education: Master's in business administration
Yvonne Quint
Office: Frankfurt/Germany
With BearingPoint since: 2010
Areas of responsibility: Digitalization and compliance of capital markets
Education: Master's in business administration, executive MBA
Giso Hutschenreiter
Office: Munich/Germany
With BearingPoint since: 2018
Areas of responsibility: Insurance, finance and regulatory (F&R)
Education: Master's in engineering
Olaf Remmler
Office: Hamburg/Germany
With BearingPoint since: 2018
Areas of responsibility: Utilities, digital transformation
Education: Master's in energy systems and technology management
Marcel Tietjen
Office: Hamburg/Germany
With BearingPoint since: 2009
Areas of responsibility: Communication, media & entertainment industry, digital & strategy, data analytics
Education: Master's in economics
Christoph Steens
Office: Düsseldorf/Germany
With BearingPoint since: 2003
Areas of responsibility: Public services, government and health & social welfare, IT management
Education: Master's in business administration
Thorsten Vogel
Office: Düsseldorf/Germany
With BearingPoint since: 2014
Areas of responsibility: Insurance, sourcing, IT transformation
Education: Master's in economics
Frank Tiefenbeck
Office: Berlin/Germany
With BearingPoint since: 2001
Areas of responsibility: Finance and regulatory (F&R), performance management
Education: Master's in economics, PhD in business administration
Pompeo D'Ingiandi
Office: Zurich/Switzerland
With BearingPoint since: 1999
Areas of responsibility: Public services, government and defense, supply chain management and SAP S4/HANA logistics
Education: Bachelor's in business engineering and ERP software
Marco Kundert
Office: Zurich/Switzerland
With BearingPoint since: 2012
Areas of responsibility: Banking and capital markets
Education: Diploma in business economics