Management consulting market of Asia Pacific now worth $50 billion
The consulting industry of Asia Pacific, consisting of Asia, Australasia and a number of other very small markets, will this year break through the barrier of $50 billion, according to new data analysis. The region is one of the fastest growing consulting sectors in the world, having added around $10 billion in fee income in the space of just four years. Japan and South Korea remain Asia's largest consulting markets, while China, India and Australia are the main drivers of growth in volume.
With a population of 4.3 billion, around 60% of the world's population, Asia Pacific is a force to reckon with. The region generated a gross domestic output (GDP) of $28.2 trillion last year, of which powerhouse China accounted for nearly 40%, making Asia Pacific in terms of economic output larger than the US, Germany and the United Kingdom combined.
The region's management consulting industry however is still playing catch-up, yet is doing so at a rapid pace. According to an analysis by Consultancy.eu's sister platform, which leveraged data from US-analyst firm ALM, Asia Pacific's consultancy landscape has grown by 6% or more for four consecutive years. Meanwhile, the outlook for the region remains strong, with 7% growth forecasted for next year. As a result of the growth, spending on management consultants in Asia Pacific is now above $50 billion. In comparison, the globe's largest marketplace for consultants, North America, is valued at around $152 billion, with the United States holding a 90% share of that region.
The Asia Pacific region includes around 50 countries, spanning East, South and South East Asia – including India, China and a host of other booming markets – and Oceania, which is most notable for hosting Australia and New Zealand, but also includes a myriad of Pacific island nations across the Melanesia, Micronesia and Polynesia micro-regions. The region's diversity means that its consulting industries vary significantly in size, market structure and maturity.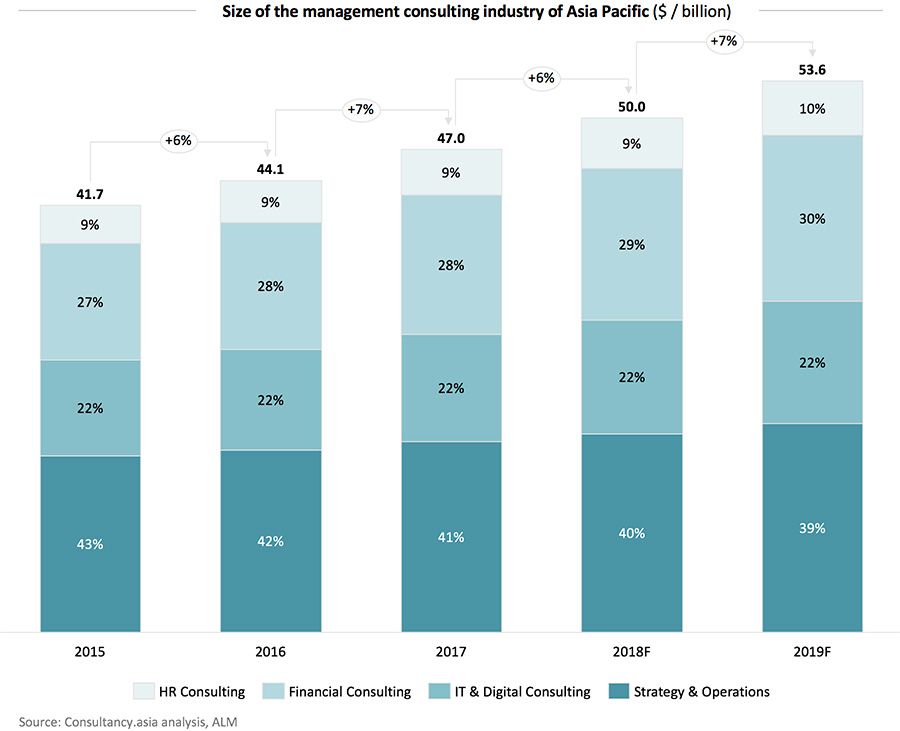 Japan and Korea are the largest markets in the region, contributing a massive 44% of the total, with consulting firms in the two countries billing more than $20 billion in fees to their clients. Greater China accounts for nearly a fifth of revenues in the Asia Pacific, yet contrary to Japan & South Korea, the region is growing fast, at 24%. While growth of the Chinese consulting market is expected to slow as the economy slows as well, consulting spend is still forecast to see double-digit growth in 2018 and 2019, of 11% per annum.
The third largest region in Asia's management consulting space is Australia & Polynesia, which includes the developed markets of Australia and New Zealand, together with a host of tiny markets including Tahiti and Vanuatu. In Australia, nearly half of industry fees are generated by two important sectors for the country – natural resources (mining) and power – while the government and financial services sectors together account for around 40% of Australia's consultancy market.
From a service line perspective, Strategy & Operations remains the largest service sold to clients. The field includes traditional strategy consulting work, such as corporate and business unit strategy, commercial due diligence and high-end work for large organisational transformations. Operations focuses on performance improvement in primary and secondary processes, including logistics, supply chain, manufacturing and back-office.
IT and digital consulting accounts for nearly one quarter of Asia Pacific's consulting industry. This segment includes work such as technology advisory, digital transformations, cybersecurity, infrastructure design and system implementation, but excludes more tech-oriented activities such as systems integration, application maintenance and managed services. Financial consulting is seeing its share of the total grow, on the back of China's banking renaissance and the growing standing Hong Kong and Singapore are taking in global financial markets.
Consulting firms
The consulting firms that dominate the market in Asia Pacific to a large extent mirror the global situation. The Big Four – Deloitte, EY, KPMG and PwC – are the largest overall, particularly strong in financial consulting as they enjoy a heritage in accounting, audit and financial advisory. They are followed by the three large US-strategy consulting firms, McKinsey & Company, The Boston Consulting Group, and Bain & Company, which likewise to the US and Europe are larger than their main rivals A.T. Kearney, Oliver Wyman, Strategy& and Roland Berger.
Large players groomed in the region include Abeam Consulting (a partner of BearingPoint), Solidiance (a strategy & operations specialist) and MTI Consulting, a management consultancy, among others.
For more information on the developments in Asia Pacific's management consulting industry, read the article 'Asia Pacific consulting industry breaks $50 billion barrier' on Consultancy.eu's regional sister platform, Consultancy.asia.