Meet EY's new boss for Europe and MEIA: Julie Teigland
EY's regional boss for Germany, Switzerland and Austria, Julie Teigland, has been promoted to the leader of the firm's Europe, Middle East, India and Africa (EMEIA) division.
With more than 115,000 people across 98 countries, generating revenues of $13.9 billion, EMEIA is EY's second largest geographic arm, behind the Americas but ahead of the Asia-Pacific region. Not surprisingly, Teigland said she is delighted with her promotion, adding that she sees it as an honour to "work with teams across EMEIA on addressing clients' biggest challenges and opportunities."
Mark Weinberger, EY's departing Global Chairman and CEO, and Carmine Di Sibio, his successor per the 1st of next month, both describe Teigland as an accomplished leader. "Over her tenure with EY, Julie has demonstrated uncompromised integrity, strong business acumen and an ability to manage high-performing teams," said Weinberger. Di Sibio added: "The combination of Julie's leadership skills, management experience and achievements in driving business results will help take EY in EMEIA to even greater heights."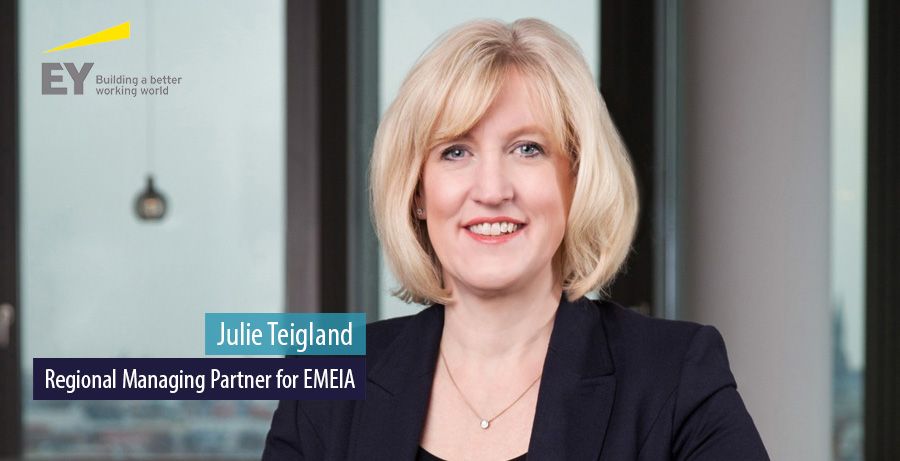 Originally from the United States, Teigland has been living in Germany for over three decades, and has been with the global accounting and consulting firm for 17 years. In her latest role as Regional Managing Partner (RMP) for Germany, Austria and Switzerland, she led the region through above-market performing growth (9% average revenue achieved during her tenure), realised organically and through a buy-and-build strategy in fast growing domains such as strategy, technology, cybersecurity and digital transformation.
Teigland's most high-profile deal was undoubtedly that of OC&C Strategy Consultants in Germany. In December 2017, OC&C's German team joined EY-Parthenon, EY's strategy consulting subsidiary formed after the Big Four firm acquired The Parthenon Group in 2014. OC&C has meanwhile rebuilt its German practice, from its hub in Munich.
Earlier in her career at EY, Teigland worked in both the Assurance and Tax service lines, where she advised and audited many Fortune 500 clients, with a primary focus on the life sciences sector.
Teigland takes the helm on 1 July, and becomes the second female regional managing partner at EY – with the Americas region led by the American Kelly Grier. Her appointment to EY's Global Executive committee, the organisation's highest body, sees her become the sixth female member, representing a share of nearly one third (31%).
Andy Baldwin, who has now entered his last week as Regional Managing Partner for EMEIA, remains with the firm. He has been appointed Global Managing Partner for Client Services.
Earlier this month, EY was named one of Europe's top employers and the leading multinational from the professional services sector.