Wavestone doubles up in the US with WGroup acquisition
French consulting group Wavestone has more than doubled its operations in the United States with the acquisition of WGroup, a Philadelphia-based IT consulting firm. Around 100 team members, including over 50 permanent employees, join Wavestone's Northern American ranks.
The joining of forces is part of Wavestone's strategy to grow into a global player. The firm today has around 3,000 employees across eight countries, however its sweet spot lies in Europe, in particular in France, where the company was founded in 1990. The US, the globe's largest management consulting market, valued at over $50 billion and just under half of the global consulting industry, is one of the key pillars of Wavestone's '2021 Strategic Plan'.
Upon completion of the deal, Wavestone's business in the US will generate annual revenues of around $35 million, across offices in New York and Philadelphia. "This signals the start of an ambitious growth chapter in the US," said Pascal Imbert, Wavestone's chief executive officer. Speaking of WGroup, he said, "We were impressed by WGroup's leadership team and their offerings."
WGroup launched in 2004 in Philadelphia, Pennsylvania, and has since grown into an established IT consultancy in the region. The company provides IT strategy, digital transformation, cost optimisation and operational improvement advisory services to mainly large enterprises across North America. Clients the consultancy serves include more than 200 Fortune 1000 companies, spanning multiple sectors such as healthcare, financial services, media, entertainment, manufacturing, retail and consumer goods.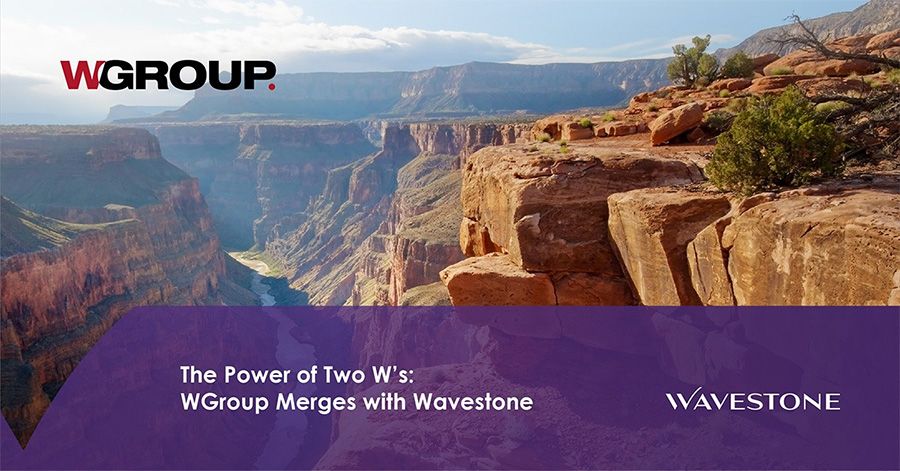 The firm's in-demand portfolio of services has helped WGroup book fast growth in recent years, with its 100% revenue jump between 2014–2017 landing the consultancy a listing in Inc. magazine's 5000 list, a ranking of the nation's fastest-growing private companies.
"[Our growth] is a validation of our unique approach to digital transformation," said Jeff Vail, WGroup's chief executive officer, after being notified of the prestigious recognition. In 2018, WGroup recorded consolidated revenue of $26.1 million (approximately €23.3m), up 16% on the year previous. "We were impressed by WGroup's ability to consistently expand its client base," said Imbert.

Digital transformation and IT outsourcing
In its approach, WGroup recognises that the real bottleneck to digital transformation is with legacy IT – the accumulation of old technologies, skills, and processes that slow or even block innovation. "Many companies can't act on their digital strategies due to existing constraints within the organisation. We call this gap the digital transformation chasm and it's every organisation's biggest threat," explained Harry Wallaesa, founder of WGroup.
Another area in which WGroup has built a strong track record is in IT outsourcing. The company helps its client outsource business critical IT processes and with the setup of shared service centers, from the design and setup to hands-on execution. In a ranking released by the IAOP, a global association for the outsourcing industry, WGroup was named one of 'World's Best Outsourcing Advisors', in between the likes of Boston Consulting Group, Deloitte, PwC and The Hackett Group.
From a services viewpoint, WGroup's portfolio is complementary to that of Wavestone, which also enjoys a strong heritage in outsourcing and IT excellence, tracing back to the days of Solucom and Kurt Salmon. However, Wavestone's offering is much broader, and also include propositions such as finance, risk & compliance, innovation, human capital, operations, supply chain and subsidies.
Enhancing client value
It is this opportunity to broaden its portfolio – combined with a shared ambition in the US – which drew WGroup to its larger Paris-headquartered counterpart. "We are an ambitious team with our sights set on achieving market-leadership in the US market. To do so, we need to deliver more service lines, greater breadth of expertise, and overall, enhance our value to clients. Merging with Wavestone gives us this opportunity," explained Vail.
"Merging with Wavestone gives us this opportunity to broaden our expertise and enhance our value to clients."
As part of the WGroup integration, Vail will lead Wavestone's business in the US and be part of the firm's global executive committee.
For Wavestone, the acquisition is the firm's fourth major since early 2015. After buying Hudson & Yorke in the UKand Arthus Technologies in Switzerland, Wavestone took a giant step in its ambition with the bolt-on of Kurt Salmon (excluding the retail and consumer goods advisory units). The firm's most recent deal was that of Xceed Group, at the time one of the UK's fastest growing IT consultancies, in a transaction which added 60 professionals to Wavestone's footprint in the UK and the US.
The latest transaction was advised by several M&A advisory groups. WGroup's shareholders were supported by Equiteq (corporate finance and M&A support) and Pepper Hamilton (legal advisory), while Wavestone's M&A consultants were Innovation Advisors (corporate finance), Grant Thornton (transaction support) and Dentons (legal support).
Two months ago, another French-origin management consulting firm, Sia Partners, also expanded its footprint in the US through two deals.