Why students should attend one of BCG's business courses
Every year, global consulting firm Boston Consulting Group (BCG) organises a number of business courses in Europe for students, with the aim of introducing them to the world of strategy and management consultancy and revealing how it is to work as a consultant at Boston Consulting Group.
One of the participants who attended last year's edition of BCG's annual business course for students – then held in Germany's Berlin – was Tim de Vries. Now an Associate at Boston Consulting Group in Amsterdam, De Vries recalled, "After finishing my master's, I was certain that I wanted to work as a strategy consultant, but I wasn't sure which company I preferred."
"BCG's business course was a great opportunity for me to get to know the people of BCG and get a taste of the projects they carry out for clients." With over 18,500 consultants and staff globally, BCG is one of the world's largest management consulting firms, and a leader in the strategy consulting segment. The firm works for clients across all sectors, including financial services, retail, government, aviation and manufacturing.
At the event, De Vries received trainings from Project Leaders and Partners, and after the formal programme, students had the opportunity to mix and connect with BCG's consultants. "While the business case taught me about the economics and technological challenges of wind energy, the social programme and focus on personal development convinced me that BCG was the right place for me."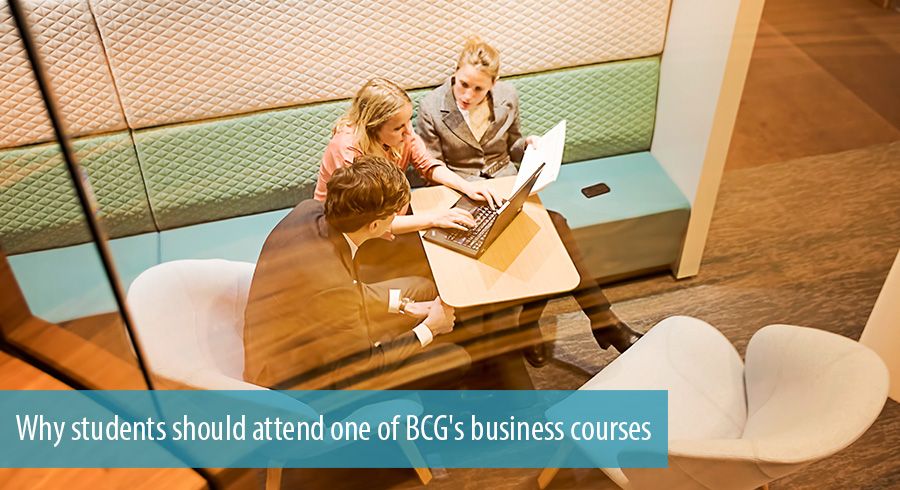 Another alumnus of BCG's annual business course is Michelle Amory. Reflecting on her participation in 2017, she said, "During the business course I was provided an introduction to consulting, and more specifically to the BCG way of working. Throughout the business course I experienced ample development opportunities with coaching provided throughout. The case consisted of a diverse range of topics, from renewable energy, finance, and operations to digitalisation and innovation."
"In addition, the business course allowed me to test a variety of skills such as my teamwork capabilities, analytical skills, thinking out-of-the-box and swift decision making. All in all, the business course was an amazing experience in which I got to meet incredibly interesting people and it ultimately led to my applying and starting as an Associate at BCG in the Netherlands."
Following an onboarding program, Amory started her career at BCG with a large project in the Middle East. "BCG listened carefully to my demands. During the recruitment process, I highlighted I would love to be staffed abroad as soon as possible, preferably in the Middle East." At the oil company in the Gulf, Amory worked on a large programme management office engagement.
"All in all, being on this case in the Middle East was an incredible experience in which I have learned a tremendous amount about consulting." De Vries added; "I have been working at BCG for half a year now and I recommend everyone to apply for one of the firm's business courses."
In November 2019, BCG is organising a business course in Paris. A select group of 25 top students will be provided the opportunity to attend the event in France's capital city.