Real estate consultancy acht+ joins Cushman & Wakefield
German real estate consultancy acht+ has joined Cushman & Wakefield, a real estate professional services services firm with over 50,000 employees globally.
"The acquisition of acht+ is another important milestone for our expansion plans in Germany," said Yvo Postleb, Head of Germany at Cushman & Wakefield.
The move, he added, deepens and extends the firm's portfolio of services in the country. Established in 2010, acht+ specialises in project management, technical due diligence, project general planning and cost management services, mainly to investors.
Among the firm's clients are Activum SG Capital Management, Blackstone, The Royal Bank of Scotland, MEAG (A Munich Re company), Hamburgische Real Estate, Generali, Eisenberg Group and EB Asset Management. "We work for national and international landlords and institutional investors, helping them with projects of every size, said acht+ founder Axel Funke.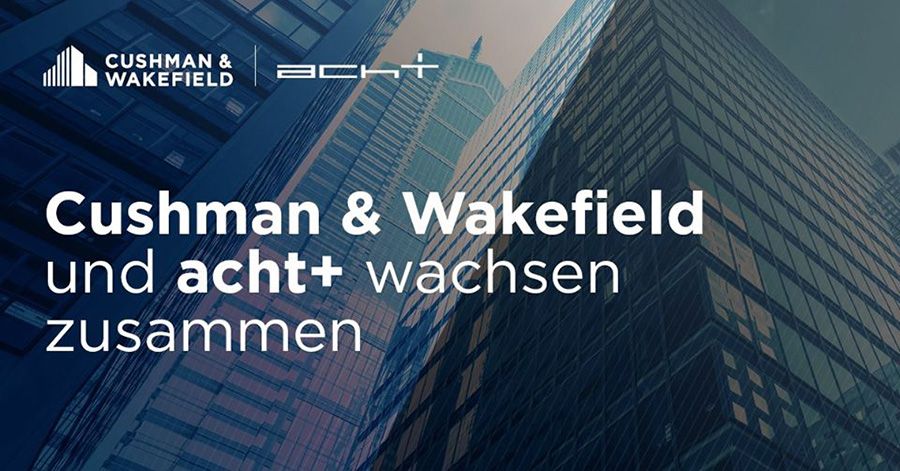 "The addition of investor-focused services to our existing services aimed at corporate occupiers means Cushman & Wakefield can now provide clients in Germany with a fully in-house solution for the entire life cycle of a property," remarked Postleb.
As part of the integration, acht+ will be bundled with Cushman & Wakefield's Project & Development Services (PDS) practice, which provides services including design + build, building consultancy, building engineering and cost consultancy. The joining of forces adds approximately 50 employees to the practice, doubling its size.
Frank Masuhr, who leads the Project & Development Services practice for Germany, Austria and Switzerland, said "acht+'s established investor relationships and networks means we can service new sectors."
Funke wrapped up; "This mutually-beneficial opportunity allows us to continue the success of our journey so far. Cushman & Wakefield's local office network and wide range of complementary services enables us to better service our existing clients, and provides access to new clients and projects."
Cushman & Wakefield has seven offices in Germany: two offices in Berlin and Frankfurt, and one each in Hamburg, Düsseldorf and Munich.