European retailers are facing growing competition in fresh food segment
Physical retailers of fresh goods face the prospect of competition from online retailers, even while fresh food remains one of the final bastions of offline consumer behaviour. New analysis considers the threat to physical retailers' fresh food propositions, as well as strategies to secure the segment from loss to online players.
Buying goods online has become ever more popular in recent years, as retailers developed omnichannel propositions and deliveries boom – with the segment hitting double digits in terms of market share. As of yet, however, not all areas of the shopping experience have fallen to online retail – fresh food sales remain foot-fall pullers.
However, large pure play online retailers are increasingly, and aggressively, seeking to enter the fresh food space. Amazon, with its recent acquisition of Whole Foods, reflects a wider trend in the market to provide a broad range of everyday grocery shopping through delivery services. To better understand the current trends, as well as how traditional incumbents can prevail in the face of new entrants, Oliver Wyman analysed key developments in the fresh grocery space in a new report.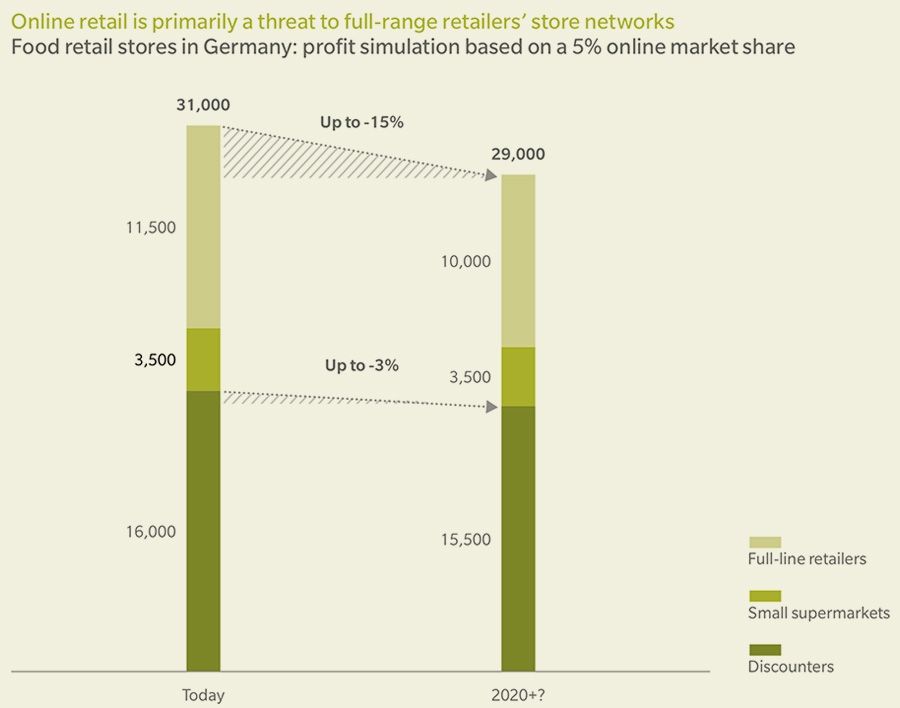 As per the report, the disruption caused by digitisation and new market entrants, such as Amazon in the retails sphere, is causing all sectors to revise their market strategies. For example, banks have begun promoting digital services to the extent that they have closed off their physical branches and optimised operations in their offices to ensure cost-effectiveness. Similarly, telecom operators in Europe have reduced their cost per subscriber by a third, just by eliminating non-essential processes.
The report calls for a similar strategy in the retail sector, despite already being a "cost-conscious" sector. So far, as per the report, retailers have engaged in small-time cost cutting, which would save a percentage point or two. However, the sector now requires significant alterations that will reduce costs by 20%-40% to ensure survival of the sector.
While the online food shopping market remains in its infancy for fresh food (less than 1% of market share), major entry into European markets from online retailers is on the cards, with a considerable impact potentially on full-line retailers in particular. This segment could see a -15% hit on their profitability from a 5% market share loss to online for the industry as a whole, while discounters are likely to be relatively unscathed by such an entry, recording a -3% decline in the 5% market share simulation.
In order to prevent this situation from getting worse and ensure market survival, the consulting firm recommends a combination of digitisation/automation, simplification, and a change in supplier relationships. The automation of basic tasks could substantially reduce the dependent staff, thereby driving down costs. Similarly, market analysis to identify low selling products and cutting them out of stock would cut costs significantly, while reducing the number of suppliers can help to focus on optimisation of a few key relationships.
If such processes are implemented, the market might still be salvaged, according to the report. For example, while online retailers, such as Amazon, are looking to large markets in Europe, including Germany as an initial battle front, consumers remain unconvinced of the current value proposition for online shopping. A survey of 1,000 European consumers, found that 76% said that their main reason for continuing to buy fresh goods in physical stores is that they can 'touch and pick up products', followed by 68% that said 'I can take the products with me straight away'.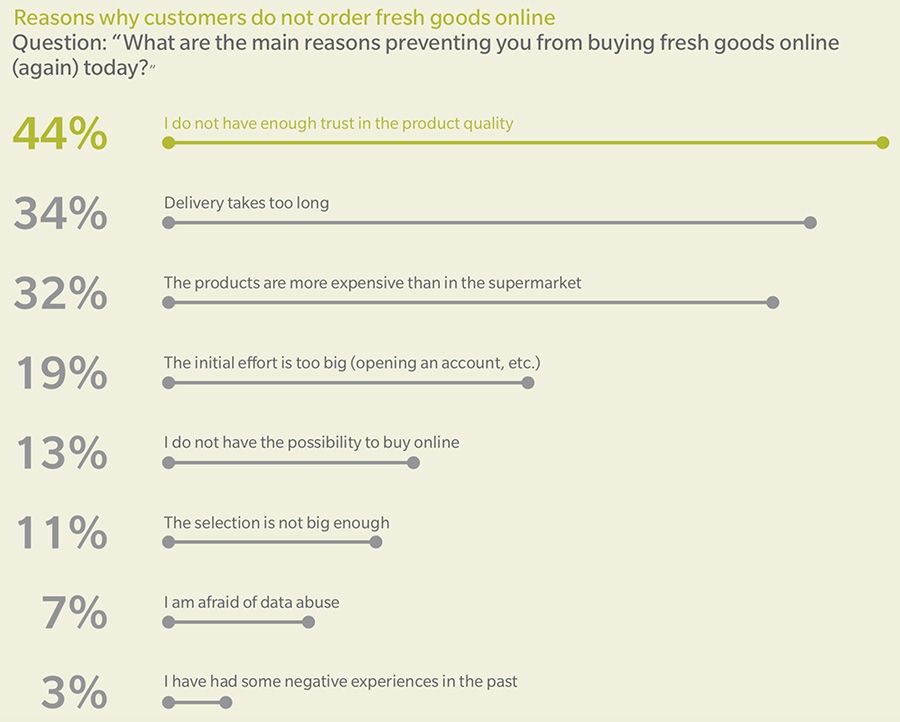 Respondents also continue to enjoy the shopping experience, as cited by 42%, while 36% cited a better selection – super markets are also said to have better quality products, cited by 20%, while 11% like the personal touch of interaction regarding advice.
When asked what the main reasons preventing the consumers surveyed buying fresh goods online were, 44% said that '[they] do not have enough trust in product quality', while 34% said that 'delivery takes too long'. Higher prices were also cited (by 32%) as a roadblock to adoption. Other concerns were noted too, from initial hurdles (19%) to fear of data abuse (7%) and negative experiences in the past (3%).
The firm notes however, that physical retailers have some scope for concern with the most recent survey, with those citing a lack of selection has shrunk, reflecting the increased capacity of online retailers. Furthermore, consumers are also already concerned about the quality of the fresh food at their physical retailer – which may, if online retailers are able to garner trust, create a reason for consumer shift.
Winning fresh
Concern around supplying fresh food has been noted for reasons other than disruptive competition from online retailers – with food waste a key concern for the sustainability of the wider food web on a planet with finite resources, shrinkage costs and consumer satisfaction. Food waste is also deemed a social harm, with considerable hunger here, and across the globe, unmet; while shrinkage costs are passed on to consumers and affect profits – further affecting low-income households' access to fresh – healthy – foods at a reasonable price. Finally, consumers are easily put off by food that is clearly not fresh, negatively affecting their perception of retailers.
Improving the wider supply chain, and company procedures, in favour of reducing waste, while providing consumers with fresh goods (that are actually fresh) is seen as favourable to retailers seeking to prevent loss to online retailers, as well as reduce shrinkage costs and food waste. To get there, the firm suggests that wider supply chain integration is required, as well as demand modelling that takes into account various, contingent factors.