Europe's telecoms infrastructure needs €300 billion spend for 5G
Channeling €300 billion into telecom infrastructure could generate over €110 billion in annual GDP benefits for Europe by 2025 – according to new Boston Consulting Group analysis commissioned by the European Telecommunications Network Operators' Association (ETNO).
The futuristic vision of a world with 5G – full of automation, drones and a tech-driven lifestyle – hasn't quite arrived anywhere. That said, Europe is lagging behind other key markets such as the US and China when it comes to 5G advances – for several reasons.
Spectrum auctions were already being drawn out, and last year was consumed by pandemic-response efforts among regulators, policy-makers and businesses. Underlying these issues is a lack of infrastructure to power 5G – notoriously reliant on a high frequency of network towers. Collaboratively tackling some of these issues could help the continent unlock 5G's exciting potential across business, government and society.
Strategy consulting firm Boston Consulting Group was tapped by ETNO to deliver a status update on telecom in Europe – complete with recommendations on how to bring the continent up to speed. For starters, the firm highlighted just how valuable 5G could be for the telecom industry alone – with myriad use cases set to generate over 60% of the sector's revenues by 2025.
Then there are the wider economic benefits. Reliable connectivity at high speeds could power industrial automation at an unprecedented scale, fine-tune operations in logistics and tracking, safety and health, and connected vehicles – among several other digital advances.
Combined, BCG estimates these developments could add $113 billion to Europe's GDP per annum over the next half a decade – creating nearly 2.5 million new jobs. A transforming automotive industry will likely be the biggest driver of this growth, followed by changes in the workplace structure – as 5G enables more reliable networks for remote working.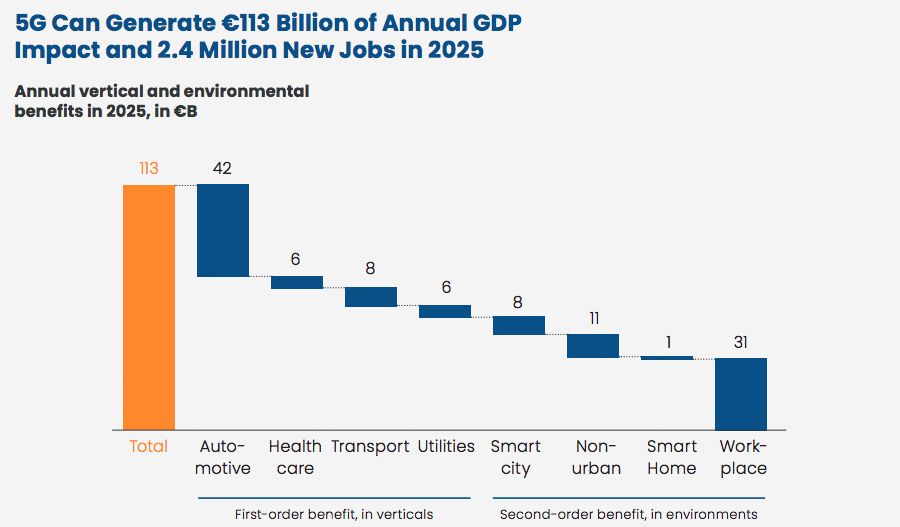 Other digitalizing sectors such as utilities, transport, healthcare and smart cities will also contribute to this boost. With all this to gain, the report highlights the imperative to do away with barriers that have long held Europe back in the 5G race.
Five strategies to realise 5G potential
BCG and ETNO crystalized the road ahead into five key recommendations. One is simply to build the physical foundation for 5G. "Overall investments of €300 billion by 2025 are necessary to achieve both gigabit speeds and realize the full 5G vision in Europe," read the report.
"About €150 billion will be necessary to achieve broadband speeds of 1 Gbit and faster across Europe via fiber to the home or office (FTTX) and 5G FWA. Massive growth in wireless data traffic, especially as the internet of things ramps up, will mandate an additional €150 billion to build the infrastructure to enable the full 5G vision for consumers and enterprises in Europe."
Businesses will have to ramp up to meet this scale while, governments and regulators should work to make the investment lifecycle smoother. This comes at a high cost, although the benefits are larger. Beyond this, most strategies relate to preparing for a 5G-powered future.
The second recommendation is for Europe to catch up with the US and China in cloud and data innovation. Four major cloud service providers control nearly 80% of the market today, and none of them is European. Building a local base of digital solutions could set the stage for a boom when 5G infrastructure is ready.
Strategy number three is to cultivate a digital-first society – across education, business, government and industry. Per the report, governments should take the lead on this – as it has value not only for the economy but for sustainability as well. Closely related is the fourth recommendation – building a digital workforce through literacy and upskilling programmes, as a means to extracting full value from advanced tech.
Last item on the agenda is to rethink business models in telecom – in favour of more collaboration and shared ownership. The level of investment required to compete with 5G giants in the US and China will require pooled resources rather than a fragmented set of national stalwarts. Governments have a large role to play here too.
"Policy makers should support collaborations and build scale by enabling entrepreneurial partnerships beyond infrastructure. They can allow consolidations within and across countries to enable telcos to build more scalable solutions and compete on a global level, and they can direct funding towards startups and venture capital to support the development of new technologies," said the report.