Christian Malorny and Thomas Luk join Automotive practice of A.T. Kearney
A.T. Kearney has bolstered its automotive practice with two partners. Christian Malorny has been appointed a senior partner and global head of the firm's automotive division, while Thomas Luk has been named a partner with a focus on helping clients on their strategic challenges in China. Both Malorny and Luk are based in Germany and have an extensive background at rival McKinsey & Company.
"I am delighted to welcome two proven automotive experts to our partnership, both of whom are highly networked industry leaders and esteemed thought-leaders in the rapidly changing global automotive sector," said Martin Eisenhut, partner and managing director of A.T. Kearney Central Europe.
Christian Malorny spent 20 years as a consultant at McKinsey & Company, focusing on the automotive and engineering industries. His spell at the US-headquartered management consultancy ended in 2015 after facing his former employer in a court case. The year previous, McKinsey had terminated Malorny's contract on the grounds that he had breached internal procedures, including writing false expense statements. The German court however saw no wrongdoings in Malorny's behaviour – with his new challenge at A.T. Kearney, he starts a new chapter in his esteemed consulting career.
Malorny, who graduated in Mechanical Engineering at the Technical University of Berlin, has been named the global head of A.T. Kearney's automotive unit, which reportedly generates a revenue of around $300 million across the firm's footprint of 40+ international offices.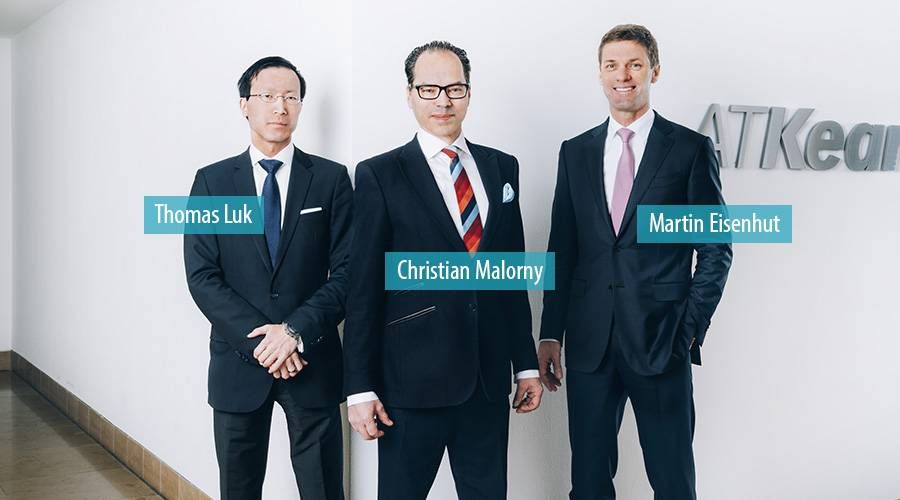 He is joined by another former McKinsey consultant, Thomas Luk, who spent more than 10 years with the US firm in the automotive and high-tech practices. Tuk, who studied Technical Business Administration at the University of Stuttgart, specialises in performance transformations and strategic collaborations in Europe and China. Luk has been tasked with accelerating A.T. Kearney's automotive work in the Chinese market.
Commenting on his new role, Malorny said that the automotive industry is facing major change across strategy, organisation, technology and ecosystems. "The disruptive market changes with new market players and business models requires new strategies, value chains, production processes and procedures." The winners of the new era, he foresees, will be automotive companies that not only develop suitable answers for digitisation and new mobility forms, but those that manage to work in the wider ecosystem to build a differentiated position in the automotive value-added."
One of the changes touted as a major disruptor is self-driving cars – according to a study by Strategy&, by 2030 autonomous vehicles will drive half of all kilometres travelled in the European Union. Meanwhile, Europe risks losing out on being a major force in electric vehicles warned BearingPoint in a recent report, which is another major trend to hit the automotive sector in the coming years.
For consulting firms such as A.T. Kearney, which was founded in 1926 in the United States, the changing dynamics means that consultancy offerings need to change along with the environment. Malorny: "As the automotive industry accelerates toward digital solutions, consulting firms must reinvent themselves, with courage, foresight, and innovative consulting approaches that effectively and sustainably empower their clients. I look forward to doing so at A.T. Kearney."
Germany is outside of the US one of A.T. Kearney's stronghold markets. The Dusseldorf office was the firm's first international office back in 1964 – the same year McKinsey expanded into Germany.