Roman Daffner new leader of Oliver Wyman's Munich office
Global strategy and management consulting firm Oliver Wyman has appointed a new office leader for its Munich office: Roman Daffner.
Roman Daffner takes over the office leadership from Jens Torchalla, who held the role for the past four years and passes on the baton at the start of next year as part of the firm's office leadership rotation policy.
Announced at the firm's black tie Munich Christmas party last week, the transition will see Torchalla return to a more client-facing role – the 15-year company veteran supports clients in retail and consumer goods with topics including category management, purchasing, sales, operations and supply chain management.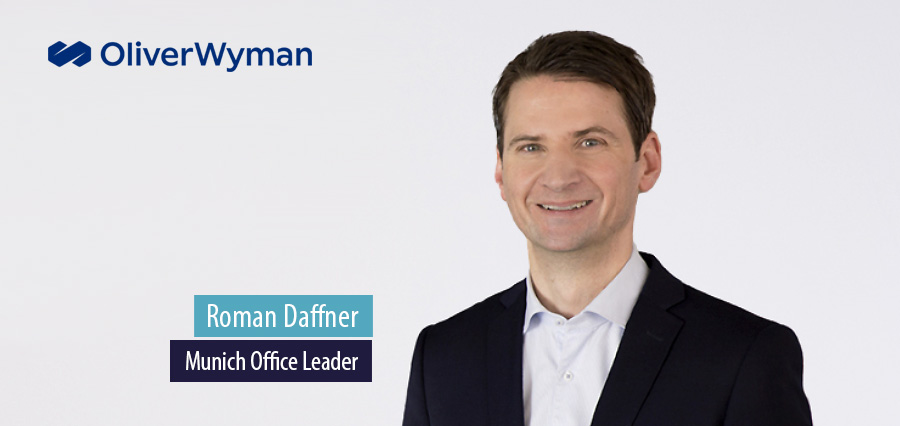 New office leader Daffner has similarly been with Oliver Wyman for fifteen years, and is a partner in the Automotive practice. He specialises in topics such as operations, manufacturing, consumerisation, and digital transformation.
"I thoroughly enjoy consulting because it provides the opportunity to solve tough challenges and I find it rewarding to create impactful results. I am proud to see the projects we work on truly create real impact for clients," said Daffner on his tenure in the industry.
In his farewell speech, departing office leader took the time to thank the Munich team for its support. "It was a fulfilling and positive time – with some obvious unplanned challenges due to the pandemic. I definitely learned a lot and I hope I could contribute my share to keeping our fantastic culture alive and thriving. I wish Roman all the best for the next years to come."
Munich is one of Oliver Wyman's five offices in Germany, the others located in Berlin, Dusseldorf, Frankfurt and Hamburg. The firm's German organisation (one of its largest globally) is led by Kai Bender.