Eight Advisory hits 80+ partners with latest intake of leaders
European consulting firm Eight Advisory has appointed seven new partners across its offices in France, the United Kingdom, and the Netherlands – lifting the size of its leadership team to 82 partners.
In home market France, where Eight Advisory was founded in 2009 by a group of eight former Big Four partners, the now 720-strong consultancy has welcome Kaoutar Dehaumont, Nabil Saci, Mathieu Cascallana, François Gallizia, and Pascal Raidron to its partnership.
Meanwhile, two partners were appointed in London – Alison Harutunian and Daniel Parsons – while in Amsterdam, Silvia Pagliero has been hired externally into the partnership.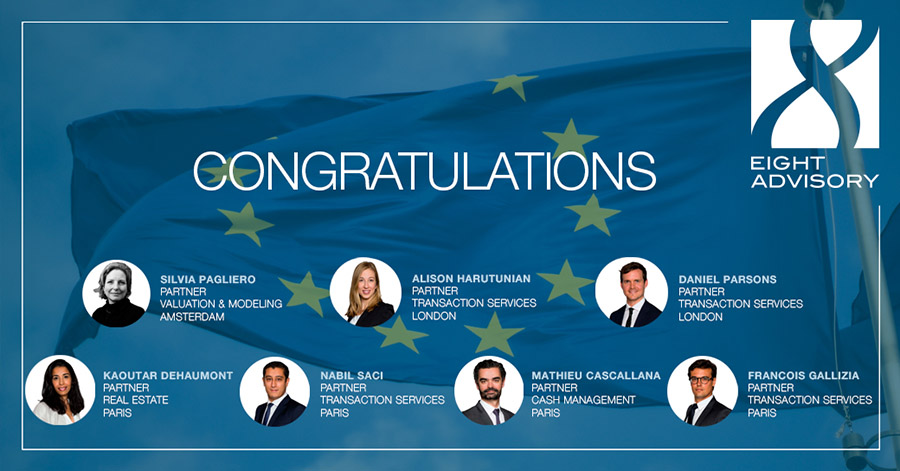 Kaoutar Dehaumont is a partner in Eight Advisory's Real Estate team in Paris. She began her career in audit and consulting at Mazars in 2008, before joining Eight Advisory in 2017. Dehaumont has developed extensive expertise in real estate and Hospitality Transactions, and financial advisory services.
Nabil Saci is a member of the Transaction Services team in Paris. He has began his career at EY five years before joining Eight Advisory in 2017, bringing with him his significant experience in supporting small and mid-cap companies.
Saci supports private equity firms, corporate accounts, and family-owned businesses with financial due diligence, with a focus on the technology (notably software) and healthcare sectors.
Mathieu Cascallana is a member of the Cash Services and Transformation Finance team in Paris. He began his career in 2008 at Saint-Gobain Desjonquères in the Treasury and Financing Department.
With 15 years of experience in cash management within international groups (SGD, Verallia, Auchan, Ceetrus) and as a consultant, Cascallana has deep expertise in the implementation of cash functions in carve-out situations and the deployment of cash management software.
François Gallizia has is a partner in the Transaction Services team in Paris. He began his career as a financial auditor at KPMG, after which he joined Eight Advisory in 2015. Having served many clients over 7 years, he gained substantial experience in due diligence and broader merger & acquisitions services, with a strong focus on clients in the e-commerce and media sectors.
Alison Harutunian is a partner in the Transaction Services team in London. After spending years at Deloitte and Alvarez & Marsal, Harutunian joined Eight Advisory in 2018. She has experience across deal sizes and cross sector, with a focus on healthcare, education, business services and technology, media, and telecommunications.
Daniel Parsons began his career at BDO in 2009 within its audit practice, before moving across to the firm's Transaction Services department. He has over ten years of advising private equity and listed corporate clients on buy-side and sell-side deals across the spectrum from lower-mid market to large cap in the UK and cross-border.
Silvia Pagliero is a member of Eight Advisory's Strategic Valuation & Modelling team in Amsterdam. She has over 20 years of professional experience gained in large consulting organisations (Deloitte and McKinsey & Company), and financial services institutions such as PGGM and Fortis Bank. Pagliero has been tasked with developing the valuation and modelling practice in Amsterdam.
Commenting on the promotions, Eight Advisory Managing Partner Pascal Raidron said: "The appointment of these seven new partners is a clear evidence of the effectiveness of our strategy. It is consistent with the continued expansion of our international presence and illustrates the broadening and complementarity of Eight Advisory's service portfolio."