FTI Consulting adds Frederik Vinten to EMEA leadership team
Global consulting group FTI Consulting has appointed Frederik Vinten as Chief Operating Officer for its Europe, Middle East and Africa region.
In his new role, Vinten oversees FTI Consulting's full operational portfolio – including operational plans, processes, and infrastructure – across 24 offices in the region. He is based out of the Copenhagen and London offices, and reports to fellow Dane and EMEA Chairman Lars Faeste.
Across the EMEA region, FTI Consulting has more than 2,000 employees in 15 countries, who combined account for around 28% of the group's $2.8 billion revenue base (North America generates nearly two thirds of all turnover).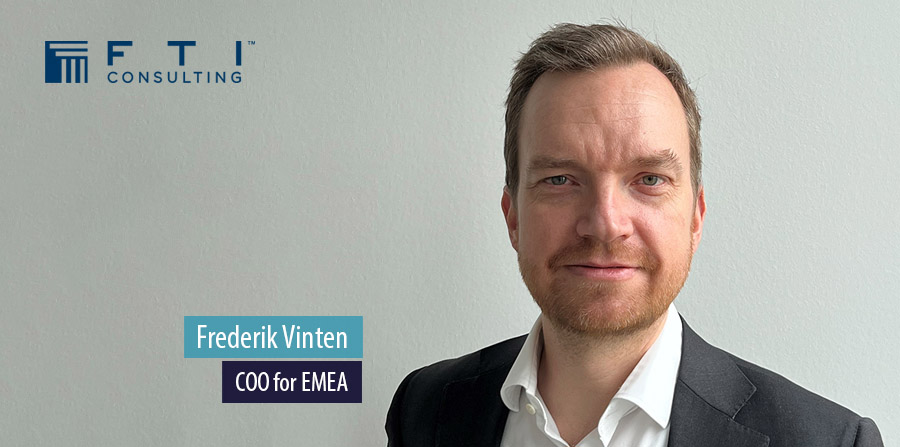 Vinten joined FTI Consulting on 1 February 2023, bringing over two decades of experience in consulting and industry practice to the firm. He most recently was a partner at Spencer Stuart, where he advised private equity firms and their portfolio companies on talent and people management strategy.
Before that, Vinten held senior roles at Danske Bank, where he was responsible for group business development and was a member of the executive board, and at Maersk Line, where he led the company's strategy and mergers & acquisitions agenda.
Previously, Vinten gained considerable consulting experience during his roles at McKinsey & Company and Boston Consulting Group.
"Our operations play a critical role in our success and we are investing in our people, processes and systems to further the value that we deliver to our clients and support the ongoing development of our platform. We are thrilled to see Frederik lead our operations, he has excellent leadership skills and a great track record in business and operational performance, which will be invaluable in helping us realise our ambitions."