European leaders anticipate massive transformation agenda
Facing a highly challenging landscape and declining margins, business leaders across Europe see a massive need for transforming their companies.
Executives in Europe face a formidable set of challenges in 2023. This is according to a new study by Oliver Wyman based on the views of than 200 European senior executives in nine European countries, including Germany, France, Italy, Spain and the United Kingdom.
Among the top challenges that are keeping leaders up at night are: inflation (in particular the prices of energy and raw materials), ongoing supply chain disruptions, the talent shortage, the general economic downturn, and rising interest rates.
"These relatively new concerns add additional pressure for executives on top of what is an already challenging agenda, one that requires companies to adapt to the long-term structural shifts of technology disruption, sustainability and climate change, globalisation, adapting to new ways of working (including remote working), and changes to the talent and skills landscape," said Oliver Wyman's authors in the report.
The combination of the current disruption and long-term shifts translate into an expectation that costs will increase further. More than 80% of executives expect cost increases in 2023, with the majority expecting cost hikes of between 5% to 10%. All things considered, leaders don't expect they will be able to pass on all costs to consumers, and hence forecast an average margin decline of around 2 percentage points.
Transformation agenda
In navigating the challenges they face, one thing is clear: there is a massive need for businesses transformation. Almost 9 out of 10 executives surveyed by Oliver Wyman plan to transform their company in the next three years.
More than one in five are convinced that this will require a fundamental change to the nature of their company in resetting the strategy, adopting an entirely new business model, reconfiguring today's product portfolio, or altering the entire company set-up.
The top 5 strategic priorities of leaders are reducing cost, improving the financing position, attracting talent, driving sustainability, and managing supply chain disruptions.
"Unsurprisingly, given the expected margin decline and the economic slowdown, the cost and finance agendas are the most prominent", said Oliver Wyman, adding however that leaders have not lost sight of their strategic long-term priorities.
While executives are clear and ambitious about what they want to achieve, the study also found that they are less sure footed when it successfully implementing the required transformation. A large part of the leaders surveyed admitted that they struggle in ensuring that implementation does not fall short of the objectives.
Implementation failure most commonly comes down to a number of flaws, said Oliver Wyman. The number one reason for transformation failure is a lack of leadership, identified by 34% of respondents. Meanwhile, almost 30% saw transformations fail due the lack of flexibility resulting from a too rigid approach. Insufficient budget or funding and too high complexity of change come next on the list of implementation barriers.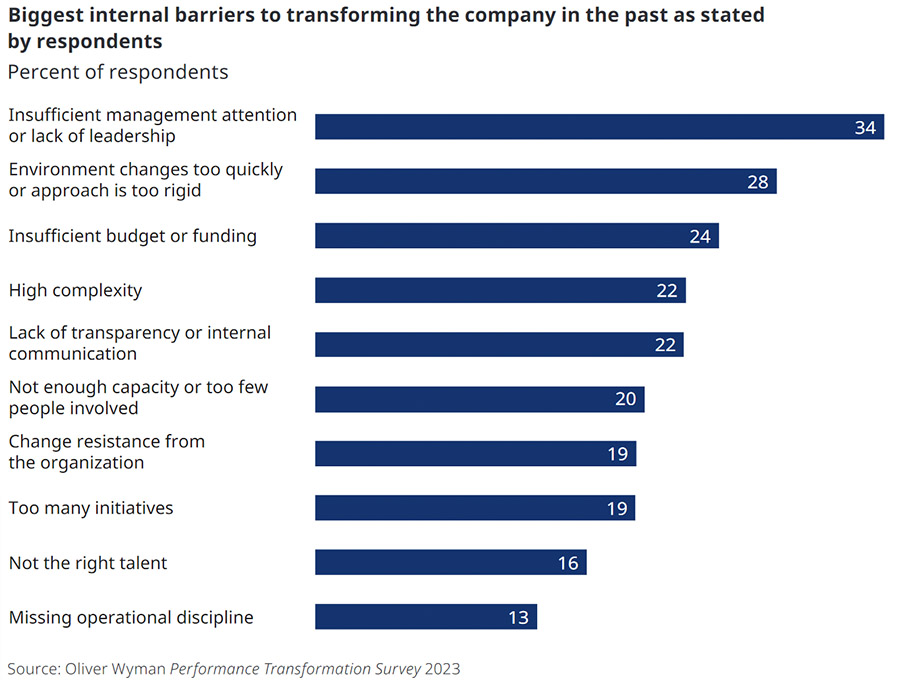 "More than ever, strong leadership from the top needs to be combined with agile program approaches. In today's highly challenging environment, it is essential that learnings from past experience should be incorporated into the ambitious plans for transformation being outlined by executives. If they are not, the intended transformations will almost inevitably be doomed to fail," concluded the report.
For its study, Oliver Wyman surveyed leaders of large companies (all companies have revenues of over $1 billion) from numerous sectors, including retail, automotive, manufacturing, financial services, and telecom.