Trends in architecture, engineering and consulting (in 10 charts)
Deltek has released the 2023 edition of its annual Clarity report, shedding light into some of the top trends and performance developments in three segments of the professional services industry: architecture, engineering and consulting. A round-up of the report's key findings in 10 charts.

Growth
As far as business growth, professional services firms plan to carry out more projects in 2023, split equally between targeting their existing clients or expanding their client base. Two-thirds (67%) of the firms surveyed are planning to increase their workforce this year, with consulting firms the most reserved and architecture firms the most optimistic.
Across the three sectors, 7 in 10 firms expect to see an increase in profits in 2023. Notably, large firms are more likely to expect an increase in profits compared with small and medium firms.
When asked how they would increase profits in 2023, architecture, engineering and consulting firms gave a wide range of strategies that will be pursued. Reducing expenses and balancing the employee/cost ratio top the list.
"Automation could have a bigger role to play in increasing profitability if it was focused in helping keep control of costs and alerting over runs as opposed to time tracking," said Neil Davidson, Group Vice President for Professional Services at Deltek, a software provider for project-based businesses.
Investment priorities
In terms of investment priorities, nearly half of all firms feel investing in new technologies is the key priority. Firms also see breaking into new markets or segments as a significant growth opportunity, with 42% reporting it at the top of their list, and regard attracting talent as a key priority to meet their growth ambitions.
"The need to keep pace with technology is evident as 74% of architecture, engineering and consulting firms say they will lose market share within two years if they fail to make progress in digital transformation," said Davidson.
Data science is the emerging technology firms reported to be most important to their success (87% ), but closely followed by a number of other technologies including big data (83%), AI (83%) and robotic process automation (82%).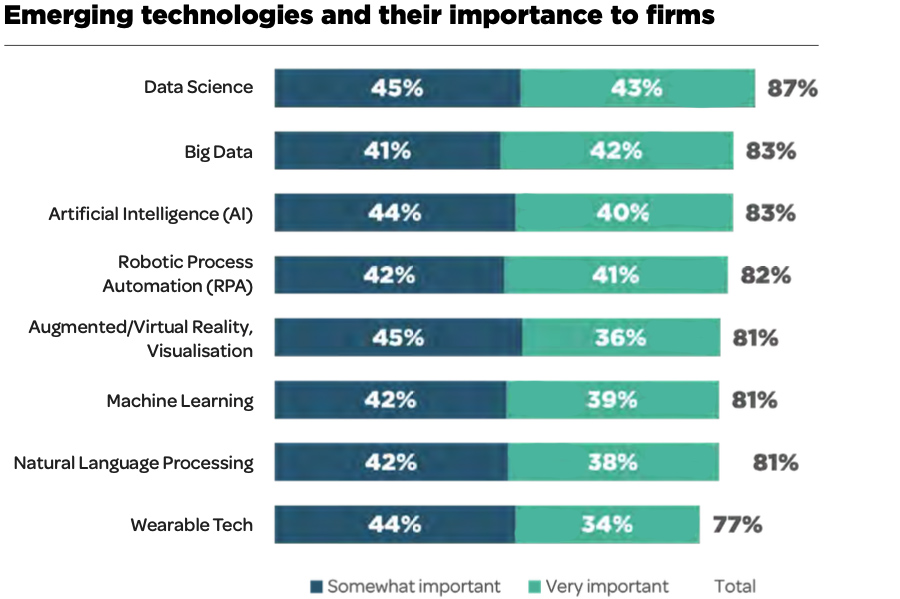 In its report, Deltek's authors warn leaders of professional services firms of the daunting task of navigating the complex technology landscape, and making sound decisions given limited budgets and resourcing. In fact, prioritising which emerging technologies are most applicable to a business is regarded the top bottleneck by most respondents, ahead of the cost of the technology.
Building on their investments in technology, firms predict their digital maturity will change substantially in the next five years. The proportion of firms that expect to reach an advanced stage of digital maturity, where digital transformation is a strategic focus, a culture of innovation is prevalent, and business and IT management are integrated, is expected to double from where it is today (from 29% to 63%).
What's keeping leaders awake at night?
While macro issues, such as the global economy, inflation and geopolitical uncertainty are areas of high concern, leaders of architecture, engineering and consulting are most concerned about the risks of cyber risks/breaches
Talent management is another concern high up the list, with several other people-related issues also identified as causes of concern. Firms are facing ongoing people challenges, including managing work-life balance, employee attrition, and lack of employee engagement.
Managing business performance
Deltek's Clarity report also asked professional services leaders to share how they track the performance of their business and proejcts. The KPIs most likely to be tracked are margins, net revenue and revenue factor. The KPIs least likely to be tracked are backlog and net labour margin (both for 63% of firms).
"While the majority of firms are tracking KPIs, especially for financial performance, there are fewer firms tracking some critical metrics that can deliver key insights to the business," said Davidson.
Davidson continued, "also worth noting is that many of the project management KPIs are financial and looking in the past. Project managers should take a close look at what they are monitoring and if those KPIs will help them adjust current projects that are at risk or provide insight from past projects to plan for better projects in the future."
Tracking KPIs should also be grounded on accurate data and reporting. The survey however found that only half of the respondents have high confidence in their firm's ability to accurately report on the project performance metrics such as project profitability, budget, actual cost and schedule.
One issue identified in this regard is the large number of companies that still rely on manual data collection. Other bottlenecks include substandard reporting / reconciliation and legacy systems.
Commenting on the report, Davidson said: "As we move into an era of accelerated innovation, it is smart investments in the tools that will help consultancies, architecture and engineering firms optimise their efficiencies that will give them the small and large gains needed to continue growth. This, coupled with an increased focus on talent management, suggests 2023 is a key turning point for professional services in truly adjusting to the new ways of working and seizing the opportunities available to make their operations and teams work at peak efficiency."
About the report
Deltek's Clarity report has been held annually since 2019 across regions including North America, Europe, and Asia Pacific. The 2023 edition of Clarity surveyed more than 1,000 leaders from architecture, engineering and consulting firms worldwide. Deltek is a global provider of software and solution for project-based businesses.