DC Advisory expands into Ireland with IBI Corporate Finance
Global corporate finance company DC Advisory has acquired IBI Corporate Finance, marking its entry into the Irish market.
IBI Corporate Finance was established in 1966, originally as a joint venture between Bank of Ireland, Morgan Grenfell and Schroders. Later it became a wholly-owned subsidiary of Bank of Ireland. In 2017, the firm became independent, following a management buy-out.
Today, IBI Corporate Finance employs 28 staff at its office in Dublin. The team advises public, private and semi-state companies with financial transactions, including: acquisitions, mergers, disposals, equity fundraising; and debt advisory.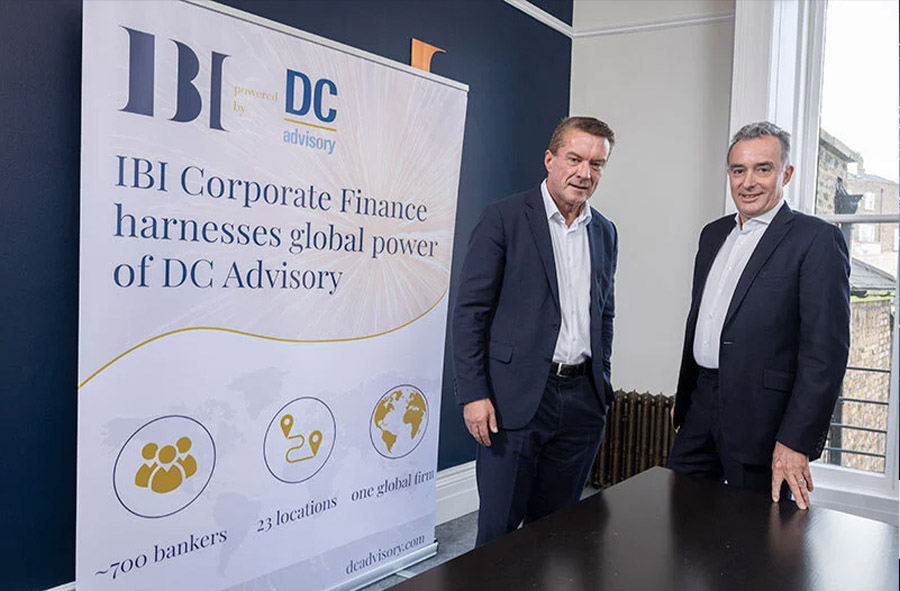 Pictured: Tom Godfrey (IBI Corporate Finance) and Richard Madden (DC Advisory)
"IBI Corporate Finance has a unique reputation in the market, and we look forward to complementing their talent and relationships with our sector expertise and international reach," said Richard Madden, chief executive of DC Advisory in the United Kingdom. "Ireland is a really exciting market and we look forward to working with them."
Headquartered in London, DC Advisory is an international corporate finance and mergers & acquisitions firm with nearly 700 professionals in 23 locations throughout Europe, the Americas, and Asia.
Tom Godfrey, CEO of IBI Corporate Finance, said the Irish firm was drawn to DC Advisory's global presence and reputation in the market – while being able to uphold its independent position.
"Our leadership team has been focused on opportunities to grow our business in partnership with a truly international adviser that shares our values in terms of excellence, integrity and commitment to our clients. A genuinely integrated international platform is hard to find, but essential to make a difference for our clients. In DC Advisory, we've found a truly global team with genuine depth of expertise."
Last year, DC Advisory expanded into the Benelux organically, while in 2021 the group setup shop in Thailand. In 2019, the firm also bought its way into the Spanish market with the acquisition of Montalbán.