Capgemini provides SAP consulting services to the Swedish Army
The Swedish Army has selected Capgemini to help it manage and improve its core ERP solution. The contract has a duration of three years, with the option to extend for another four years.
Sweden's Armed Forces, which is a government body comprising the country's Army, Navy, Air Force and Home Guard units, runs a large part of its operations and back-office functions on SAP, one of the globe's largest ERP systems. SAP's functionality for defence organsiations focuses on helping military organisations with military planning and operations, force deployment, supply chain, defence equipment management and replenishment, overhaul (MRO) and enterprise asset management, maintenance, and repair, among other utilites.
PRIO system
The SAP solution used by the Swedish Army, named PRIO, is based on the SAP for Defence & Public Security solution portfolio and tailored to the needs of the more than 20,000 users it serves, making it one of the most comprehensive SAP software installations in Europe. PRIO plays a central role within the Army's wider IT landscape and is integrated with around 80 other support systems and applications.
As part of the Army's continuous improvement plan for IT, Försvarets Materielverk (FMV), a body tasked with the procurement of services and products for the Ministry of Defence, earlier this year launched a tender process to find the right consulting partner to support the management and operation of the PRIO system. The key areas of the co-sourcing frame agreement focus on economics, logistics and technology.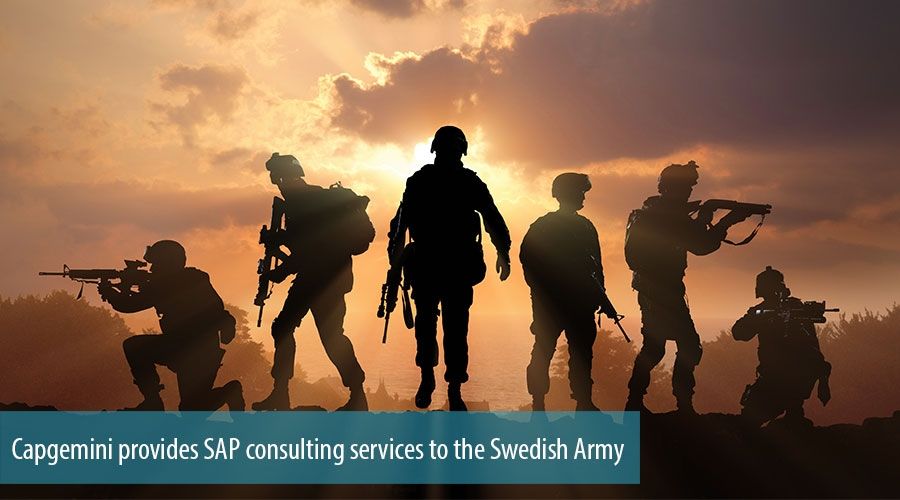 Following a comprehensive selection process, Capgemini was selected as the winner of the public tender. Terms and financial details have not been disclosed, however, it is known that the contract could last for up to seven years. "The Swedish Armed Forces are a strategic client for us, and we are very proud that they have chosen us to be their provider," said Leendert Venema, Head of Capgemini in the Nordics. "Capgemini's in-depth knowledge of application landscapes, long experience with SAP and high delivery capacity are some of the criteria as to why the Armed Forces selected us as its vendor," he added.
Under the agreement, the Swedish Armed Forces will exclusively call Capgemini for services, including strategic and tactical support on SAP digital technology, as well as operational support for more specialist SAP roles. Capgemini will serve the Army through its four offices in the country (Stockholm, Göteborg, Solna and Malmö), with support from the firm's competence and delivery centers in Stockholm and Mälardalen.
Military organisations regularly turn to consulting firms to help them enhance or maintain their technology infrastructures. In the US for instance, Accenture Federal Services is currently supporting the US Army with a large ERP transformation, while in one of the largest technology consulting deals in recent years, the US Army awarded a massive $1 billion contract to Booz Allen Hamilton in 2015.