EY Advisory acquires Dutch management consultancy VODW
The Dutch arm of EY has acquired VODW in a move that is one of the largest management consulting deals in the Netherlands' recent history. More than 100 professionals will join the Advisory division of the accounting and consulting firm.
According to Patrick Ruijs, managing partner of VODW, the step represents a great opportunity for VODW's clients. "The joining of forces will help Dutch organisations become even more client centric and innovative.
Founded in 1983, VODW provides services in the area of strategy, marketing, and commercial and digital transformation, working in particular for clients in the financial services (banks, insurance companies, etc), retail and industry sectors. The firm has since its inception built a strong track record, with VODW in recent years named by managers in the Netherlands as among the top consultancies for strategic marketing, e-business and digital transformation.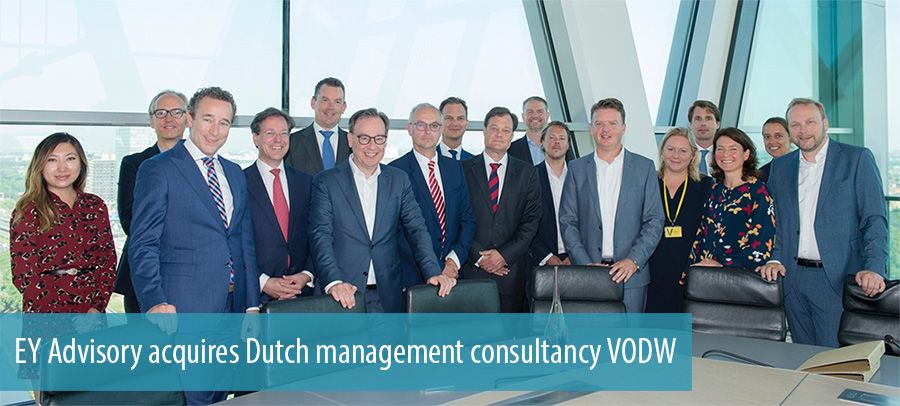 For EY, the addition of VODW to its brand provides a major boost to its Advisory practice in the Netherlands. Barend van Doorn, Advisory Leader of EY Netherlands, describes VODW as a "world class team", adding that "the consultants belong to the top of the Dutch consulting market and are recognised experts in their field." The move sees EY Advisory expand its offerings for propositions such as sales & marketing, customer experience, strategy, innovation, digital, data science and marketing technology.
With the bolt-on, the Dutch consulting practice of EY grows to a team of around 400 professionals and a revenue of around €70 million. The move sees EY follow in the footsteps of its larger country organisations in other Western markets, which have been using M&A as a means to rapidly grow their footprint. Since 2012, EY's Advisory arm closed more than 40 major deals, according to data from Equiteq.
These transactions can generally be broken down into three main areas, the first of which is technology: EY has picked up over a dozen tech specialists to enhance services in the area of digital transformation, cybersecurity and ERP services, among others.
Agencies are another group of firms which EY has picked up, as the Big Four firm together with rivals Deloitte and PwC accelerate their push into the digital advertising and agency space. Earlier this year EY acquired Citizen, three years after it acquired NorthPoint Digital – the two US-based agencies form the fundament of the EY Digital brand which the firm is currently rolling out.
The third area, one which VODW falls in, is strategy, management and digital consulting. EY Netherlands made a previous move in this area in 2016 when it bought Montesquieu, a consultancy with around 30 professionals. Yet on a global level, EY took giant steps in management consulting when it purchased strategic firm The Parthenon Group, after which it added three country teams of OC&C Strategy Consultants in Europe to provide the firm a strong presence in the traditional strategy consulting market. VODW will also join EY's consulting platform, although the former OC&C teams, now EY-Parthenon, are formally organised under the umbrella of the Transactions Advisory Services business unit.
"VODW are a world class firm. Their consultants belong to the top of the Dutch consulting market and are recognised experts in their field."
– Barend van Doorn, Advisory Leader of EY Netherlands
For all players that have joined EY, one of the key reasons was being able to be part of a firm with a deep and broad portfolio, and a truly global footprint, which in EY's case extends to more than 150 countries across all corners of the globe. A feat Barend van Doorn is looking forward to leveraging together with the newly acquired firm: "VODW is in the Benelux a top player. With EY, they will have the means to conquer the world." Ruijs: "We can now deliver our services in several countries. The synergies in expertise and industry knowledge combined with EY's network will provide major opportunities."
As part of the integration, the four partners of VODW – Patrick Ruijs, Beate van Dongen Crombags, Marcel van Brenk, and Maton Sonnemans – will join EY's partnership. The leaders have however made a number of important agreements with EY on the future of VODW. The consultancy will for instance continue to operate autonomously in the market as EY VODW, the management team will remain on board, and the firm will remain housed in its office in Leusden.
In addition, EY has agreed to embrace the "fast, creative and entrepreneurial culture " of VODW, says Ruijs, with Van Doorn even saying the firm is keen to take it a step further: "We will share their unique culture with our colleagues too."
Meanwhile, in other recent deals in the Netherlands' €1.3 billion management consulting industry, EIFFEL last week sold a stake to a private equity firm, Quint Wellington Redwood acquired Paphos Group, and Deloitte Consulting acquired two firms – tax consultancy Tytho and SAP supply chain consultancy AEPEX.