Consulting market of France: €7.3 billion and 38,000 consultants
With record growth of more than 12% in 2018, the French strategy and management consulting market has broken the €7.3 billion mark. The sector has grown for six consecutive years, and now employs some 42,000 staff, of which over 38,000 are consultants.
Data sourced from France's association of management consultancies (the same as MCA in the UK or BDU in Germany), shows that the past two years have been excellent for the market. Management consulting revenues saw growth of 8.5% in 2016 and 10.5% in 2017, but rather than slowing as has been seen in the UK for instance, French consultants have gone from strength to strength. Last year, sales hit nearly €7.3 billion thanks to an average growth of 12%.
Defining the consulting market and estimating market growth remains a notoriously challenging exercise. According to research by Source Global Research, which applies a more limited scope (the analyst firm focuses on firms with more than 50 consultants), France's management consultants saw revenues increase by a slower 6.9% in 2018, on the back of 6.2% growth in 2017, to reach a total value of €4,8 billion. Syntec Conseil's broader approach however suggests that the French consulting market is actually enjoying much more bullish growth.
Rémi Legrand, Chairman of Syntec Conseil, said of the analysis, "The French strategy and management consulting market can be proud of its sustainable growth. The sector is showing its vitality and agility, able to innovate to meet the continuously changing expectations of clients."
France's management consulting industry saw growth in every sector and service line last year. On average, consulting firms in France now have an average consultant chargeability rate in the order of 74%.
Leading sectors
As with the German market, digital transformation remains the main driver of market growth. Over one third of engagements (35%) have a strong digital component, growing from 29% in 2017. Analysis of firm performance shows that consultancies that today have a leading position in digital consulting are those who moved into the segment earliest, or that used mergers & acquisitions to buy a foothold in the domain.
These are often big firms, and they are reaping the rewards of moving ahead of the curve on digitalisation. They now typically have a portfolio where digital is between 35% and 40% of their total revenues.
Other fast growing consulting segments in 2018 included regulatory and cybersecurity consulting. With GDPR having ramped up Europe's privacy legislation, leaving companies scrambling to be compliant and avoid hefty fines, tackling cyber threats has been seen as increasingly important as a means of preventing regulatory breaches.
Meanwhile, the largest industrial grouping of consulting remains in financial services, at 30% of the market. While this mirrors most of the developed consulting markets of the world, the French consulting market also saw moderate growth in the industrial sector, which rose from accounting for 27% to 28% this year, while energy & utilities now makes up 10% of consulting fee income.
From a functional perspective, strategy, people & change and technology are the largest services areas.
Internationalising
France is home to over 1,000 established consulting firms, with practically all of the globe's leading players based in the country. Reflecting on the year's performance, Nicolas Richard, a partner at KPMG, said in discussion with Source Global Research, "2018 was a great year following many years of good growth. Anne Bioulac, co-managing partner of Roland Berger's Paris office, added, "The past year has been quite good for the French consulting market."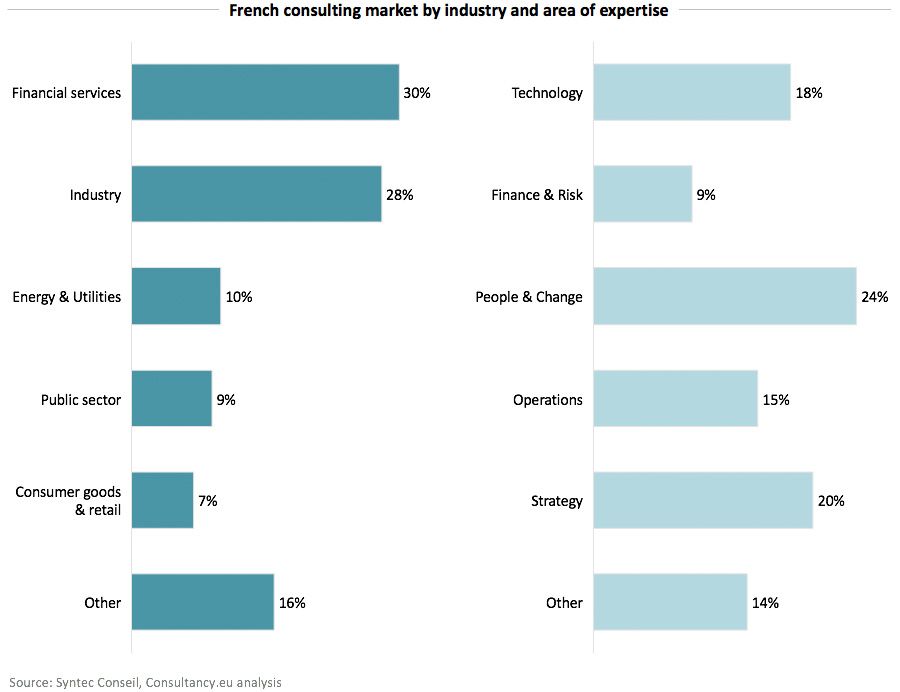 Olivier de Decker from Capco and Hanna Moukanas, the boss of Oliver Wyman in France, both pointed at the growing economy as a major contributor. "The stable global economic environment was a key reason for the strength of the market in 2018," said De Decker, with Moukanas adding; "France's economy as a whole had a good year."
The Oliver Wyman partner, of Lebanese origin, added that at his firm he also sees that the "complexity of client problems" is on the rise, meaning that clients are more inclined to turn to external specialists. Disruption is at the heart of this, as change is big and goes fast. "What we're seeing is that clients in all industries realise that they need to change their approach and transform their business to stay in the game," said Cedric Vatier, who leads Accenture Strategy in France.
One trend that seems to be buoying the industry is that French consulting firms are internationalising. Last year, 26% of all revenues came from foreign operations, compared with around 20% a decade ago. This is in part because the largest of the French-origin firms have been globalising quickly.
Capgemini for instance recently bought Altran, and the firm's consulting arm Capgemini Invent has been expanding its footprint. Wavestone now boasts around 3,000 consultants across mainland Europe, and earlier this month closed an acquisition in the US to ramp up its North American footprint.
Sia Partners, led by founder Matthieu Courtecuisse, currently has over 1,000 consultants, Efeso Consulting last month made a big move with a German acquisition, and Kea & Partners continues to widen its capacities by teaming up with groups of international consultancies.
At the same time, a number of French-origin strategic consultancies are also growing. The likes of Advancy, Corporate Value Associates, Emerton, Eleven and Estin & Co are all boutiques that are driving an international expansion strategy. Advancy, for example, just opened an office in New York, Emerton has four offices globally, and Estin & Co operates with five locales.
A force helping with internationalising is France's large group of multinationals which operate globally, including the likes of BNP Paribas, Renault and Total. At the same time, similarly to the UK with its colonial legacy in the commonwealth, France is also capable of building on growing consulting markets in Francophone regions, such as Morocco, Algeria, Lebanon, and more. The operations of many firms in these regions are often managed from Paris-based headquarters.
Outlook
If the current trends the French consulting market is enjoying continue, then 2019 is also set to be good year. Syntec Conseil forecasts 11% growth, and this is reflected by the recruitment intentions of the industry. To support growth ambitions, the French consulting sector plans to recruit 14,000 people in 2019, up from 11,500 people the year previous, including 4,000 'net' positions distributed between young graduates (about 2,200 roles) and intermediate or experienced profiles (1,800).
The one worry here is that French growth is tied to European growth, and as a number of major economies have flirted with recession in recent months amid a slowing global market, that is by no means guaranteed. With Brexit also likely to have a knock-on impact on continental growth, the idea of double-digit expansion could still fall away.
France's consulting market has previously been shown to be particularly vulnerable to a recession. In the year leading up to the global financial crisis, consultants seemed to be riding high at growth of 13.7%. However, following the impact of 2008's economic collapse, that rate tumbled to 5.7%, before a dire 2009 saw the market shrink by 6.7%.
This occurred again, following the Eurozone and the UK entering a double-dip recession. Having steadily recovered in the interim, France's consulting market shrank again in 2012 by 1.9%.
Partners at French strategy, management and digital consulting firms however remain markedly upbeat, and are preparing for an uncertain, but most likely another boom year.