Most European business leaders expect 2020 revenue hit
The Covid-19 crisis is bringing about unprecedented disruption to the financial coffers of European businesses, according to a new Eden McCallum survey held among over 300 business leaders based in Europe.
Across the full dataset, 76% of business leaders said that the Covid-19 crisis is having a negative impact on their company to date, of which 33% forecast a 'very negative' impact. 85% expect the impact to be negative over the next 6 months, with 29% preparing for a 'very negative' downturn.
As such, 84% of leaders expect the revenue of their organisation to drop in 2020 due to the Corona-induced downturn. 60% expect their revenue to fall by 10%-40%, while 18% expect a revenue fall of over 50% for the year. Not surprisingly, businesses in the travel, leisure and hospitality sectors anticipate the hardest hit, on the back of travel restrictions, closures of restaurants and bars, and the broader lockdown in most countries.
Nearly nine out of ten (88%) of travel, leisure and hospitality businesses surveyed expect a 50% or more reduction in 2020 revenues, compared to 25% for consumer goods / retail and only 3% for financial services. Notably, around one fifth of businesses in the consumer goods and manufacturing sectors expect no negative financial impact.
Measures taken
As part of mitigation and response planning, companies are taking a range of measures to curb costs and maintain operations as well as services to clients. Reducing non-people costs is the top action taken, followed by deferring or reducing capital expenditures, in the most cases related to non-strategic spending. Over half of the respondents have indicated that they are making use of government employment support.
Other measures taken include delaying/renegotiating rent for offices and shops, similar discussions with suppliers of good/services, and applying to the tax authority for deferred tax payments. One fourth of large corporates are reducing or even eliminating dividend payments to shareholders.
Obviously, actions are also being taken to cut workforce costs. Freezing new hiring is the most applied response (74%), with 66% stopping the use of external independent consultants and contractors. Just over half of the businesses have put their staff on furlough.
Leaders in the travel, leisure and hospitality sector have taken the most action to reduce workforce costs, across all measures, with 88% furloughing staff, 94% reducing pay and 23% making staff redundant, compared to 51%, 23% and 11% respectively for all respondents.
Interesting to note is that private equity owned businesses are taken more actions than their publicly listed counterparts. For example, private equity-backed businesses are most likely to have reduced workforce costs, with 71% having put staff on furlough and 25% having made staff redundant compared to 51% and 12% respectively for publicly listed companies.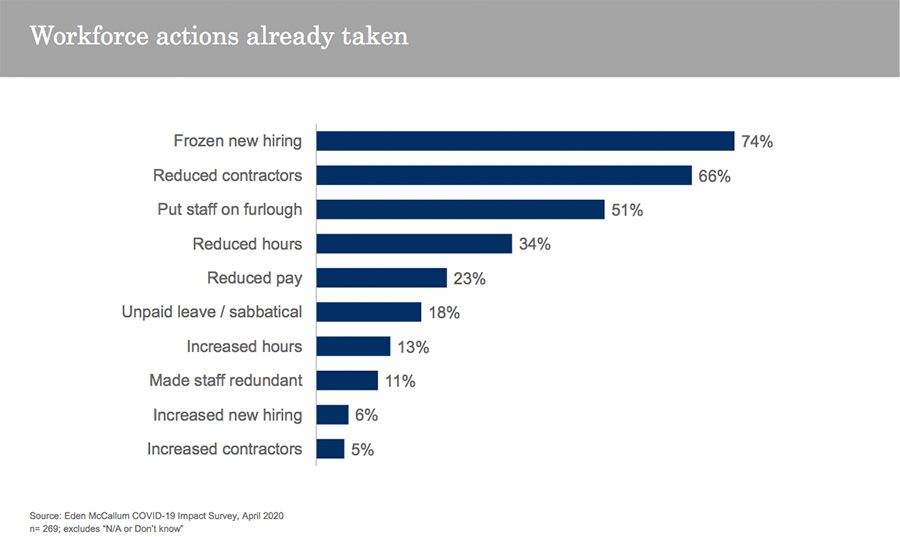 Investor-backed businesses are also acting most quickly to preserve cash, with 72% delaying or renegotiating tax payments, 63% suppliers' payments and 61% rent versus 36%, 33% and 23% respectively for publicly listed businesses.
Commenting on the survey's findings, Sara Ghazi-Tabatabai from Eden McCallum said: "The shutdowns have given business leaders little choice but to take preventative action to save their businesses and prepare for recovery, whenever it comes."
Looking ahead, business leaders have a mix of planning horizons for business returning to 'normal', with the plurality (32%) expecting business to return to 'normal' in 6-9 months; 27% in under 6 months and 39% in over 9 months.