Banks with the most advanced open banking models
Which banks lead the way when it comes to open banking? According to a new benchmark, BBVA, Deutsche Bank, National Bank of Greece, DBS and bunq are among the globe's frontrunners.
A glimpse of the future, open banking is a practice that allows third-party service providers to access personal financial data of a banking consumer. Usually tech startups with creative service offerings, these third parties can access banking data securely and in real time using unique codes known as application programming interfaces (APIs).
Benefits of open banking fall broadly within the customer experience bracket. Consumers can use such platforms to manage and monitor various accounts, while banking institutions and third parties can use transaction data to tailor services and marketing to the individual consumer.
Based in Amsterdam, Innopay is a consultancy specialising in digital transactions. Nestled within this service offering is expertise on digital identity, data sharing and open banking. Leveraging this unique expertise, the firm publishes a half-yearly monitor on best practices in the global open banking landscape.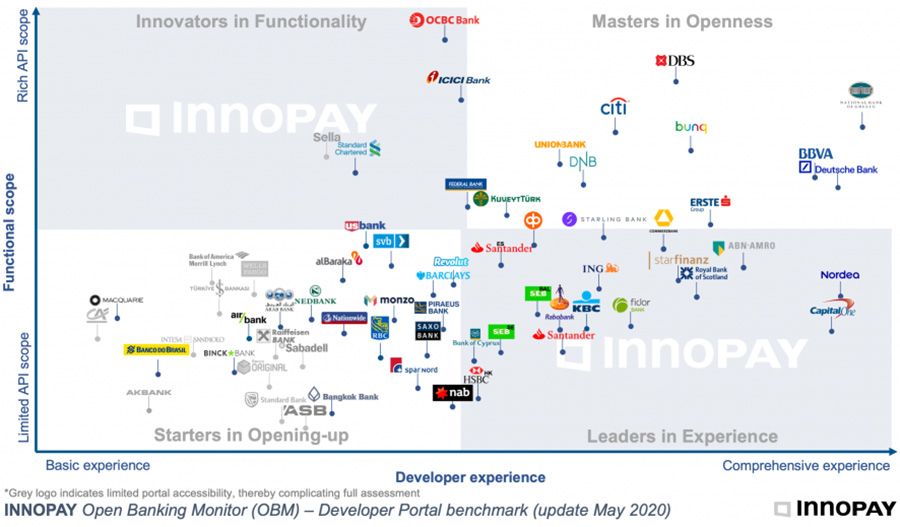 Financial institutions across the world are at various stages of their open banking capabilities Many are still in the early phase of providing access to developer tools and smooth access to APIs, while others have succeeded in developing a comprehensive strategy that sets up their open banking community for the long run.
Based on their progress and capacity in open banking, Innopay places global banks into four quadrants: Starters in opening up; innovators in functionality; leaders in experience; and masters in openness. Testament to the fact that open banking remains in its nascent stages is that most banks fall within the starters category.
That being said, a number of banks across the world are making tremendous strides in various parts of the open banking ecosystem. Many are developing a comprehensive API catalogue that facilitates a wide range of functionalities. Leaders in this space are Singapore-based OCBC Bank, followed by DBS and ICICI Bank.
Others have collected a large pile of API documentation, which provides information on the workings and applications of APIs. US-based Capital One bank is leading the way here, followed by ABN Amro and Deutsche Bank. According to the researchers, some banks have excelled in developing a wide open banking community, while building engagement with them.
Deutsche Bank features in the top three here as well, behind bunq and ahead of BBVA. Lastly, the benchmark highlights the set of banks that are easy for developers to use, with a number of tools at their disposal. The National Bank of Greece came out on top in this category, followed by Nordea and bunq.
So banks in Europe and across the world are improving various links in the open banking value chain. According to the Innopay, this is a crucial next step for the global banking sector, as it looks to navigate a highly challenging and disruptive financial landscape.
"In our view, banks that get their open banking strategy right will establish credibility and a footprint in the data economy as a stepping stone for future relevance and new business models," said Mounaim Cortet, Senior Manager at Innopay and co-author of the Open Banking Monitor.