13 trends driving growth of the video gaming industry
Video games are big business, with the video gaming industry now estimated to be worth $170 billion globally, while also experiencing faster growth. In a new report by OC&C Strategy Consultants and Google, the authors outline thirteen trends that are fuelling the industry's growth.
Changing business and distribution models
Adoption of new digital-only games and new content distribution lowers physical copy sales; increasing hardware capabilities and faster download speeds including 5G mean less reliance on gaming discs even for the most time consuming and engaging games.
Explosive mobile growth
Mobile gamers have exploded the gamer player base while mobile technology including streaming blur the line between console, PC and mobile games; the promise of 4K games streamed on any screen blur the line further, as more AAA titles are released on mobile and cross play becomes the standard.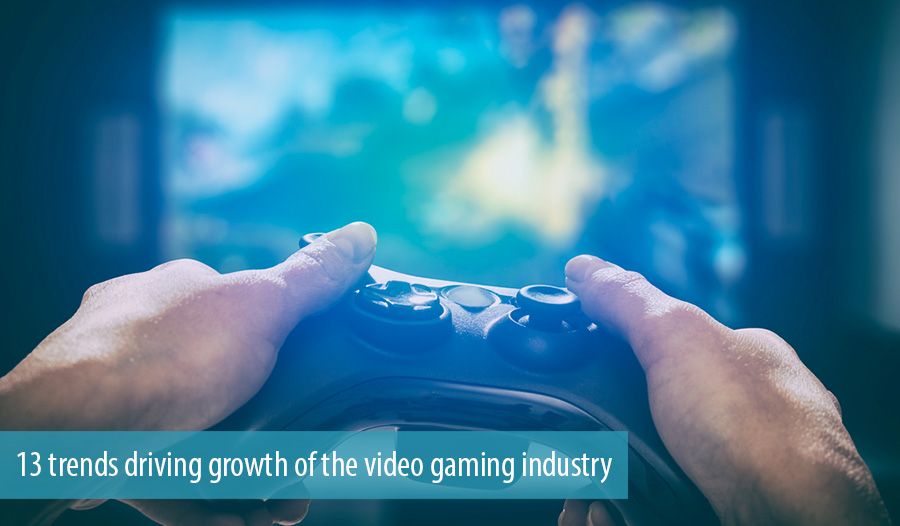 Deeper measurement of LTV
Browsing, play and purchases all happening in a connected environment allow publishers and developers to build up richer segmentation of players, behaviours, and the value that they generate.
Always-on revenue models
Time spent in games will increase as gamers simply download or stream games on any device, anywhere. Cadence of new gaming content will also increase. Game cycles will extend as studios move towards more significant DLC led strategies, pulling insights from the traditional app gaming development approach.
Growth of streaming
Consumers want to experience more live gaming events and to share deeper and more meaningful social gaming experiences which will lower the barrier to entry for streaming, driving the growth in gaming streaming overall. Massive opportunities exist for streaming and gaming content consumption across PC, console and app IPs.
Rise of social
Social media has increasingly blurred the lines between social experiences and gaming, especially on mobile. Consumers want to experience more live gaming events and to share deeper and more meaningful social gaming experiences with others, leading to more games enabling social platform features, whether that be through matchmaking or connecting accounts to social media platforms.
Launch strategy shifts
Marketing strategies will evolve from big 'tent pole' single day global launches to 'always-on', with influencer strategies and live ops and events strategies being integrated.
New audience engagement
New opportunities to engage core audiences, acquire new audiences, and increase player engagement will emerge including sponsorship, media rights, merchandising, licensing, and streaming.
LTV based marketing
Closed loop attribution and measurement will be the standard as publishers push for growth by maximising player engagement and lifetime value of players with effective and efficient first-party targeting for new content, updates and live ops.
Feedback loops
Developers are increasingly becoming reliant on data from their players to determine how to increase engagement, average number of sessions, session length and average revenue per user. Understanding which elements are unpopular, where and at what level players lapse, and what features players prefer the most are core to increasing player engagement and therefore revenue.
Sophisticated revenue streams and marketing strategies
Focusing on access, experience and high performance, players can play anywhere due to new and existing games being accessed anytime from any device. Streaming games from any device with an internet connection (including smart watches and mixed reality glasses) will also be possible, while leveraging the best computing and storage resources for the best visuals and most powerful gaming experiences. The barrier of console and PC lifecycles will be removed.
Player-centric benefits
Cloud means massive scale and technology benefits as cloud streaming removes some player challenges such as the initial cost of games/hardware/platforms and the need to upgrade them every few years. Reaching players on different devices and scaling up supporting infrastructure will reset the limits of player base and reach.
Developer-centric benefits
Game-streaming services remove the need to download games locally, install updates or worry about game file sizes allowing for a huge library of games to be instantly playable. This opens up new opportunities for subscription models either direct to consumer or through a cloud gaming platform service.
Games can also be bought and played immediately allowing for more sophisticated, closed loop marketing strategies incorporating best practices in marketing technology and data.