Mercer partners with HR Tech firm Crunchr for workforce analytics
Global HR consulting firm has agreed a partnership with Crunchr, a Netherlands-based HR Tech company specialised in people analytics and workforce planning. The deal enables the scale-up to accelerate its ambitions – Mercer is active in more than 40 countries, while for Mercer, the alliance bolsters its data science services to its clients.
Crunchr was founded in 2014 and has since grown to a team of around 20 professionals. The company provides software that analyses human capital data and translates insights into strategic information for executives and HR leaders. "Crunchr collects and validates 'people data' to come to important insights. The analyses are presented in multidimensional reports, and a built-in function helps users with translating these insights into actions," explained Dirk Jonker, founder of Crunchr.
One of the areas for which Crunchr can be used is finding inconsistencies in employee data. For example, if someone is overpaid for his or her position, a situation that can easily arise in large companies that have operations across all parts of the world. "Insights can be uncovered that can't be seen with the naked eye," said Jonker. We can delve into over 40,000 records in seven seconds. And leveraging information from outliers, we can re-calibrate the algorithms."
Another are the software supports is strategic workforce planning. For critical positions in a company, such as senior management, HR functions draft succession plans. These plans lay out which employees could potentially replace a colleague when his/her position becomes vacant. The process to craft such plans is however challenging – the effort is labour-intensive and plans have a limited shelf life. Crunchr uses the many succession plans in a corporate – large international companies make a few thousand of such plans at a decentralized level – as input for a workforce planning algorithm. By running the algorithm when needed, companies are no longer dependent on outdated plans, while data can also be updated to reflect the most actual situation.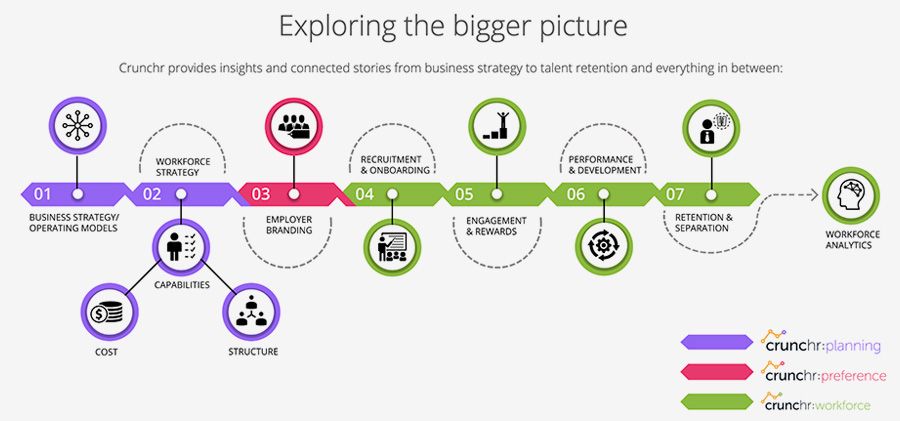 The approach can also be used for other objectives that form a wider part of strategic workforce planning, including improving the number of women in the top echelons of management, or achieving a better diversity mix across ranks.
Data's endless opportunities
The list of how smart data science can benefit human resources is however much longer, said David Sanderse, the CEO of Mercer in the Netherlands. "Using data analysis, organisations can better understand the needs of their employees and which employment conditions they value the most. This enables companies to offer their employees a more distinctive employee value proposition." Against a background of the growing talent crunch and the changing demands of the millennial and Gen Z workforce, building an attractive employee value proposition is increasingly a differentiating factor for companies, highlighted Sanderse.
By collaborating with Crunch, Mercer's CEO said that the HR consulting firm will enhance its ability to provide clients with a fact-based approach to measuring human capital return on investment. "Allowing for clear HR policies and priorities that can be set."
Consultants from Mercer will help clients with adopting and implementing Crunchr. Sanderse: "Organisations believe in the added value of workforce analytics, but are slow with integration. By combining Mercer's workforce data with Crunchr's technology, we can help our clients translate their HR objectives into concrete actions."
Jonker: "While there is a clear business case for workforce analytics, we see in practice that it requires time and effort to use effectively. Mercer's consultants can help our customers make this integration fast and smooth. We are pleased that we have found a strategic partner that can realise this at an international level."
For Crunchr, the partnership also means that the scale-up will be able to tap into the global network of Mercer, which is expected to provide a range of commercial opportunities. Mercer employs more than 23,000 people across all five continents, and further works closely with sister organisation Oliver Wyman, one of the largest strategic consulting firms in the world.
Thanks to its head start in its field, Crunchr today belongs to one of the frontrunners in HR data science. The software of the company is entrusted by leading names such as AkzoNobel, GrandVision, Naspers, Rabobank, Randstad and Volvo. Following a series A financing round which recently closed, the company is backed by staffing giant Randstad, insurance company NN Group and HR consultancy firm Focus Orange.