Revima aims for higher skies with next private equity investment
Revima, a French Maintenance, Repair & Overhaul (MRO) solutions provider for aircraft equipment, has been acquired by private equity firm Ardian. With the second investment in the space of two years, Revima aims to accelerate the growth of its footprint and operations. The deal was advised on by M&A experts from a range of external consultancies,
Since the 1950's Revima provides MRO services to aircraft operators, lessors, and repair stations worldwide, with a focus on France, Europe, Asia, North America and the Middle East. The company, based in Rives-en-Seine, specialises in products including auxiliary power units (APU), landing gears (e.g. for 777, A330, A380 and 787 aircraft) and engine parts, both for civil and military aircraft.
Over the past years, Revima has seen strong growth, boosting its revenues from €200 million in 2016 to the €280 million today. The group's shareholders however believe that the firm has potential to accelerate in the coming years, and on the back of the ambitions Revima has brought a new investor on board. Ardian has acquired a majority stake from private equity peer Argos Wityu, which became a shareholder in July 2017, and the pair have reinvested into the MRO provider. Joining them is company president Olivier Legrand.
"Our rapid development these last years and the existing and future opportunities for both internal and external growth make us particularly enthusiastic about Revima's prospects (...) Our priority is to become a global player, expanding its skills and know-how into new areas, and be closer to its customers," said Olivier Legrand.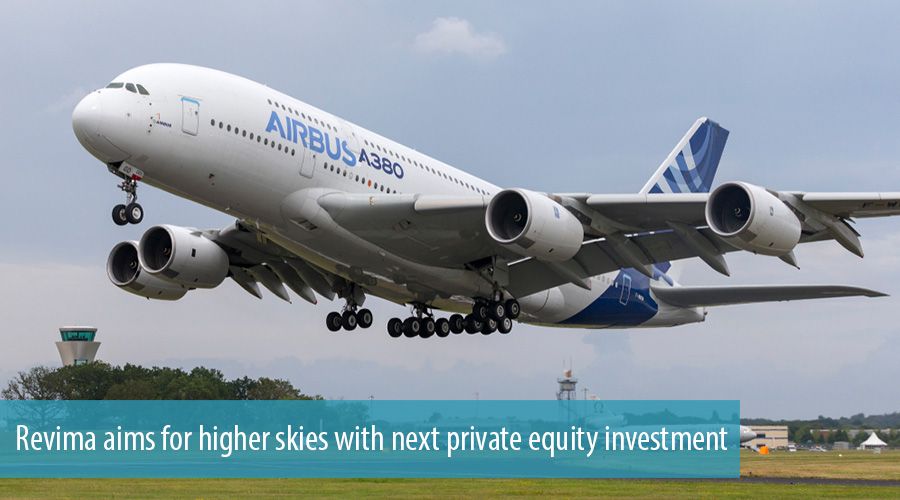 The move comes at a time when the global industry for commercial aircraft is flying high. An analysis by Oliver Wyman forecasts that the number of commercial aircraft in Europe will increase by around 2,000 in the years up to 2028, at a compound annual growth rate (CAGR) of 2.7%. In its slipstream, the aircraft MRO market is expected to see a similar growth in demand, with Europe's MRO market set to jump from $20 billion today to roughly $27 billion in 2028. Globally, the MRO industry will then be worth some $115 billion.
"Revima is a fast-growing company positioned in a very promising niche market, we are very pleased to be on board. We will use our experience and network to expand the group's international presence and further accelerate its commercial development," said Yann Bak, Managing Director at Ardian.
Building on its added financial muscle, Revima has immediately entered (exclusive) negotiations to acquire two companies in the landscape, one specialised in repairing engine parts and another in advanced predictive maintenance. According to unconfirmed reports in France, the two targets are reported to be Chromalloy France, based in Saint-Ouen-l'Aumône, and Flight Watching, a Toulouse-based company that applies data science to improve maintenance planning and operations. The expansion comes on top of an announcement made last year – in 2020 Revima will open a new $30 million facility in Chonburi, Thailand.
If all goes to plan, Revima this year expects to grow its headcount to above 800 employees, up from the current 750, and break through the revenue barrier of €300 million.
Dealmakers
During the transaction, seller Argos Wityu received merger & acquisition support from Emerton (commercial and strategic due diligence; led by Sébastien Plessis, Jean-Edmond Coutris), Eight Advisory (financial due diligence; led by Eric Demuyt, Jean-Sébastien Rabus, Victor Heilweck), Canaccord Genuity (investment banking, led by Olivier Dardel, Lucas Vuillemin, Mohamed Sagou), Arsène Taxand (tax advisory, led by Brice Picard) and Mayer Brown (legal support, led by Thomas Philippe, Clotilde Billat & Xavier Jaspar).
Four of the five dealmakers – Emerton, Eight Advisory, Arsène Taxand and Mayer Brown – were also involved when Argos Wityu acquired a majority stake in Revima in 2017. The French private equity group invests in companies with revenues from €20 million to €600 million, typically holding majority stakes between €10 million and €100 million.
Buyer Ardian was supported Alantra (Franck Portais), Wil Consulting (Jacques Ittah), Archery (Marc Durance, Thibault Espinosa) and Oliver Wyman (David Stuart) – they provided commercial and M&A expertise. The financial due diligence was delivered by KPMG (Florent Steck, Stephane Kuster), while legal and tax advisory was provided by Weil, Gotshal & Manges (David Aknin, Guillaume Bonnard and Come Wirz, Edouard de Lamy, James Clarke).
The transaction is subject to approval from the antitrust authorities as well as the opinion of the French works council.