BDO advises Volkswagen on acquisition of travel startup Voya
The Financial Services arm of Volkswagen has acquired Voya, a German startup that provides business travel management services and solutions to small and medium-sized businesses.
The deal is according to Lars Henner Santelmann, Chairman of the Board of Management of Volkswagen Financial Services, a "strategic one" for one of the world's largest fleet management companies. "With this acquisition, we are adding business travel management to our mobility offering for fleet customers," he said.
Volkswagen Financial Services supports its clients – dealers and corporates – with financing, leasing, banking and insurance, fleet management and broader mobility services. With the addition of the Hamburg-based startup, it now extends its latter offering, and can tap into a large network of small and medium-sized businesses, a relatively greenfield segment for the company.
Voya was founded in 2015 by the trio of youngsters Florian Stege, Maximilian Lober and Pepijn Schoen. The firm saw a gap in the business travel management market; while corporates and large companies are well served, smaller companies weren't, mainly because offerings weren't tailored and priced to meet their needs. Meanwhile, the co-founders believed that the industry could benefit from more digitisation.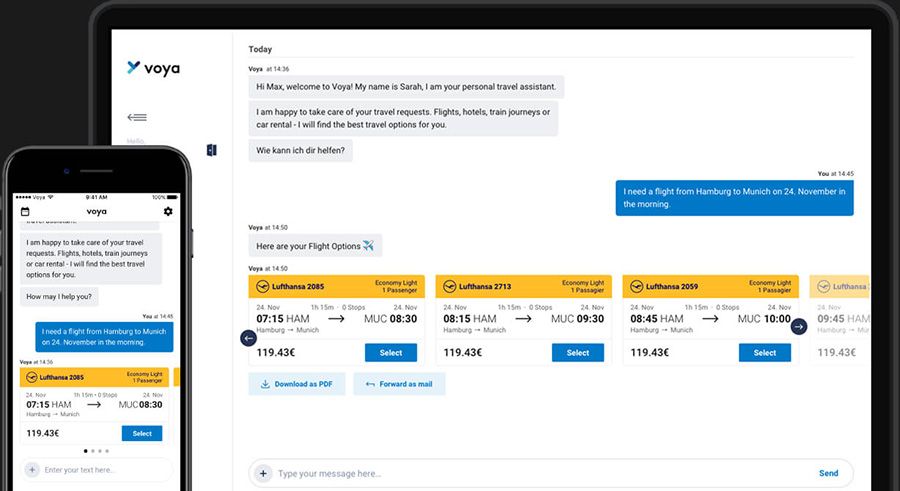 The startup enables its clients to use a digital platform and assitant to plan, book, invoice and monitor travel funding in a simple and modern way. Its clients include the likes of Mymuesli, Savencia and the travel and mobility arm of struggling German carrier Lufthansa. Voya also offers its digital platform as a white-label solution to players in the travel and mobility industry.
Commenting on the joining of forces with Volkswagen, Maximilian Lober said: "We are very pleased with joining Volkswagen Financial Services, one of the world's largest providers of mobility services, and develop mobility solutions together. From the very start, we believe in an integrated approach for business trips."
Dealmakers
Voya was previously co-owned by Rockaway, the venture capital firm of wealthy Czech entrepreneur Jakub Havrlant. Commenting on its exit, Investment Manager Martin Konop stated: "The arrival of a strong new owner like Volkswagen confirms the quality of Voya's product and services. Its support will allow Voya to take its strategy to the next level."
During the deal process, Volkswagen Financial Services was advised on by BDO. Its team was led by Karsten Paetzmann (lead/financial due diligence), Martin Geisler (financial and commercial due diligence), Daniel Troost (tax due diligence) and Frank Gerber (IT due diligence). Other dealmakers were at the time of writing not known.