Remote working can slash operational costs by one third
As productivity persists under remote working arrangements, businesses are starting to save on real estate and other expenses, which delivers a sizeable cut to operational costs. A new Capgemini report zooms in on this trend.
Capgemini Research Institute surveyed more than 500 organisations from various sectors around the world, featuring 5,000 employee responses – supplemented by expert and academic interviews. The goal was to examine how the workforce is evolving under the Covid-19 paradigm.
In focus is the shift to remote working. Initially an emergency response to lockdown measures introduced back in March, remote working has gradually come to be a norm across global markets. In many cases, this is a product of extended restrictions on travel and work, which make virtual operations a necessity.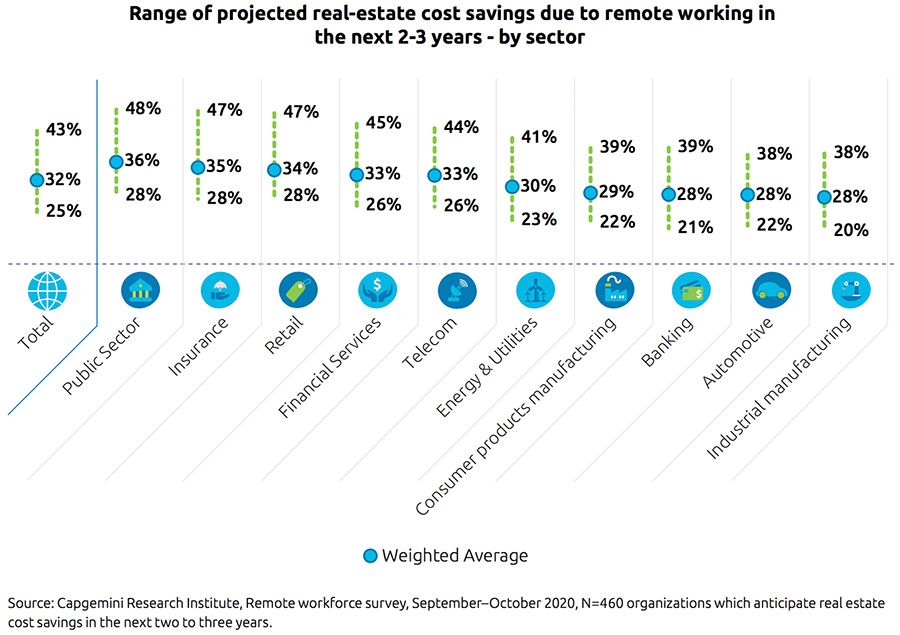 At the same time, an ever-expanding share of organisations are motivated by more than just necessity – allured by the host of unforeseen advantages that emerge from remote working arrangements. Perhaps the core realisation has been that productivity can be just as high – if not higher – when employees work from home.
Once this was established, businesses began questioning the very purpose of an office, or at least an office in its current expansive form. Indeed, a look at the balance sheet is enough to identify the myriad costs associated with running a common workspace. A prime example is real estate.
"Ever since lockdown measures were put in place, organisations have been looking at their real estate infrastructure and revisiting ownership and leasing strategies. In our survey, 88% of organisations agree that they have realised real-estate cost savings with remote working in the last three to four months, and 92% expect savings in the next two to three years," noted Jerome Buvat, Global Head of Research and Head of Capgemini Research Institute.
Real estate savings
So most expect savings, and to a substantial degree. Across sectors, remote working can deliver an average of 32% in real estate cost savings – up to 43% in some cases. No doubt, this varies by sector and segment. The public sector, for instance, stands to save the most in this regard, with some organisations scaling back expenses by nearly 50%.
"According to the World Bank, governments and the public sector are extremely asset-heavy in terms of real estate and need to readily reevaluate their long-term real estate portfolios and strategies to offset declining revenues as a result of the Covid-19 pandemic," noted Buvat. Other sectors with potentially high impact real estate savings include insurance, retail and financial services – all of which have a rapidly expanding digital base.
Asset and labour heavy industries such as energy & utilities, telecom and manufacturing, among others, have a relatively lower real estate saving potential. Still, these sectors stand to save 20% at the very least from remote working, offering food for thought. And businesses are ready to act on this potential.
In fact, around half of all organisations surveyed plan to cut down on office space in the next two to three years. Of these, around 20% plan to cut up to a quarter of their office space, while an additional 10% plan to make an even bigger cut. And this is just to do with real estate savings.
Remote working paves the way for a host of other efficiencies when it comes to office or factory space, such as cuts in heating, air-conditioning, office supplies, Internet, maintenance costs, or even food in some cases. A staggering 98% of organisations expect to save on operational costs over the next two to three years.
On average, organisations expect to save around a third of their operational costs. Once again, the public sector has the biggest saving potential – up to 52% in some cases with an average of 38%. With the ongoing ecommerce boom, retail also appears to have high saving potential on operational costs – an average of 36% and up to 50% in some cases. Insurance, telecom, energy and financial services could also win out big from remote working.
Factors to consider
On the whole, it appears long-term remote working is the future for many an organisation – spurred on by cost savings and productivity gains. That being said, this remains a one-sided assessment, from an employer's perspective. For employees, the outlook on remote working is somewhat mixed, and lately leaning towards the negative.
When lockdowns first began, many were celebrating the extra time with family, and all the spare time to pursue hobbies and interests. One only had to scroll social media to see that employee perception around remote working was largely positive. Nearly a year on, employees have grown weary of working from home, for several reasons.
One, many actually report working longer hours when at home, which combines with all the extra house work to accelerate employee burnout. To top this off, many feel that remote working is actually hindering their long term career prospects and overall working experience.
Employees have fewer opportunities to network with peers and seniors, while collaboration opportunities are also limited. For many, social interaction is actually a necessary stimulus to thrive, and they feel disconnected from the organisation when working from home.
As a result, while short-term productivity has boomed and costs have fallen dramatically, remote working in the longer term might serve to hinder the health and productivity of employees, and consequently organisations. These are some factors for businesses to consider, particularly when making the move to cut down office space.