Driving sustainable consumption in Poland's fashion and luxury sector
In Poland, growing environmental consciousness among consumers is not translating into more sustainable fashion choices. A new Boston Consulting Group report with Vogue looks into why this might be the case.
The backdrop is a global pandemic and one welcome side-effect: the rise of sustainability on the world agenda. Low travel and production cut carbon emissions substantially last year, while consumers emerging from lockdown were more aware than ever about the environmental impact of their actions.
A Boston Consulting Group (BCG) and Vogue survey of over 3,000 Polish consumers verified this shift in the national context – albeit to a limited extent in the national context. More than 60% of those surveyed, for instance, avoid single use packaging, while nearly half choose bikes or public transport over a car.
Beyond this, the commitment to sustainable behaviour tails off rapidly. Buying eco-friendly products, cutting personal carbon footprint and reducing meat consumption are behaviours adopted by roughly a third of Polish consumers, while less than 20% use renewable energy or support sustainable businesses.
One reason for this selective conscientiousness is behavioural inertia, where consumers are reluctant to change old habits. According to the researchers, this is compounded by the fact that consumers are either unaware of how best to act responsibly, or are deterred by the high cost of doing so.
Deep dive into the fashion and luxury sector – where this confluence of factors is clearly visible. Consumers today use 400% more clothes than they did just two decades ago – a startling trend when considering a single shirt takes a staggering 2,700 litres of water to produce, while the fashion and luxury sector as a whole accounts for 5% of global carbon emissions.
Pressure to go green is mounting on the industry, and brands worldwide are responding with sustainably produced fashion lines and responsible sourcing practices. The report points to The Fashion Pact – a global coalition of brands, suppliers and distributors committed to making the industry greener.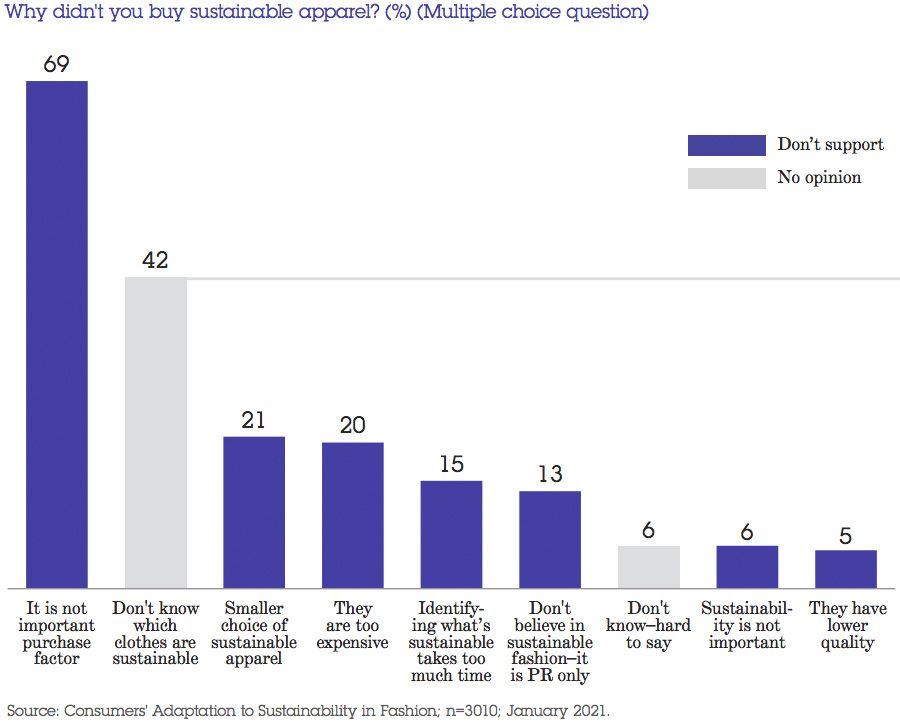 And several other initiatives are underway. Yet, asked about how often they purchase sustainable apparel, 60% of Polish consumers either had no clear idea, or do so only occasionally. Just over 10% were keen but had never purchased sustainable products, while another 10% plus hadn't done so and aren't planning to either.
BCG and Vogue went a step further, probing consumers on what would drive them to go green. Once again, themes of cost, awareness and habit took centre stage. More than half of Polish consumers would go green if the prices of sustainable apparel were lowered, while another 40% would be enticed by clear certification of what is responsibly produced – driven by a belief that most sustainability tags are PR campaigns.
In terms of the shopping experience, many want stores to have a separate sustainable products for clarity's sake, while nearly 40% want this section to have a wide product range. For a third of consumers, sustainable clothes should not only match in diversity, but in quality as well.
So the willingness to go green is present, hindered by key barriers. According to BCG's Warsaw-based managing director Oktawian Zajac, the message is clear for brands who want to switch to a greener portfolio. "Brands need to both revamp their supply chains to reduce their carbon footprint and strengthen their interactions with customers."
"A more targeted consumer-facing strategy will support the fashion industry's continued efforts toward sustainability across the whole supply chain, with innovative production methods or with testing and rolling out new business models (such as rent, reuse, and resell) to provide more sturdy, high-quality garments at affordable prices."
"This will require a well-balanced business approach. Brands will need to satisfy the growing demand for sustainable offerings, meet higher environmental and ethical standards expected by customers, and maintain the profitability of their products. A first step will be engaging conscious-minded customers to encourage them to move beyond declarations and become sustainable actors," he concluded.