Simon-Kucher cracks the half a billion euro revenue barrier
Simon-Kucher looks back at another spectacular year of growth, booking 21% growth in 2022 to help the global consultancy crack the half a billion euro revenue barrier.
Founded in 1985 by four high-profile German academics, Simon-Kucher today is an international consulting firm with 2,000 staff across offices worldwide. Last year, the firm expanded its presence to 30 countries, following the launch of new offices in South Korea and South Africa.
Strong demand for services in its areas of expertise – commercial strategy, sales marketing and pricing – saw Simon-Kucher lift its revenues by 21% to €534 million. The result continues a long streak of above-market average growth – total turnover has nearly quadrupled over the past decade.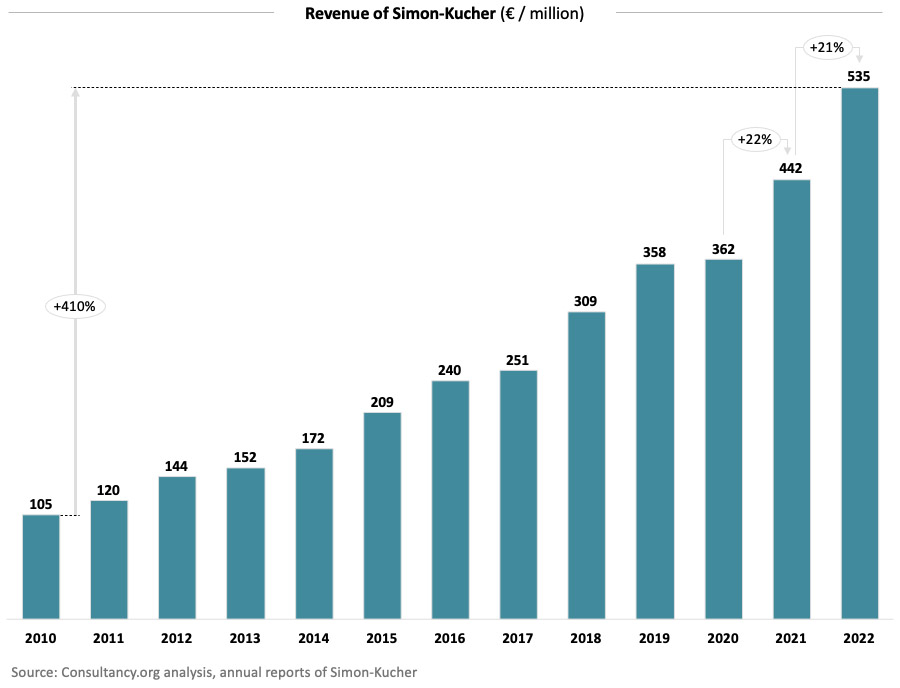 Simon-Kucher's growth in 2022 was powered by each of its sectors -- with especially high growth in its Technology, Media, & Telecom (TMT), Industrials and Financial Services sectors. Home base Europe remains the firm's powerhouse market, although Asia and North America yet again were the company's fastest-growing regions.
The consultancy also booked strong in its two subsidiaries: Simon-Kucher Engine and digital consultancy Simon-Kucher Elevate. The latter is the firm's digital consulting business with a focus on top-line growth, while the prior provides solutions and tools that help clients make better decisions and automate commercial processes.
New strategic positioning and brand identity
Meanwhile, Simon-Kucher has kicked of 2023 with a complete refresh of its market position and branding.
Originally known for its expertise in pricing (Simon-Kucher ranks as one of the leaders in the field), the consultancy has over the past decade broadened its offering to advise clients on all levers of their commercial strategy – product, innovation, marketing, sales, and pricing.
"We are renowned for our pricing expertise, which remains a core offering, but our clients have looked for a more holistic approach for several years. We are increasingly advising them on optimising every lever of their commercial strategy to drive growth, increasing their long-term sales, value, and profit," said Mark Billige, Co-CEO of Simon-Kucher.
"The next chapter of our story is, to put it simply, to be known as the world's leading growth specialist."
Supporting its new strategic positioning is a new brand (shortened from Simon-Kucher & Partners to Simon-Kucher), logo (refreshed logo more web-friendly), and tagline ('Unlocking better growth').
"Unlocking better growth focuses on our mission to help our clients achieve a better kind of growth – growth that's long-term and sustainable, founded on what customers want and value and will pay a fair price for," said Andreas von der Gathen, Co-CEO of Simon-Kucher. "That in turn, powers our clients' long-term sales, value, and profit."