Accell Group shifts financial gear with upgraded treasury
After taking a long hard look at its treasury function, Accell Group took the plunge by investing in a treasury management system (TMS) and improving bank connectivity with a payment hub solution. So how exactly did the European market leader in bicycles achieve these goals?
Accell Group is the European market leader in the mid- and upper-segments for high-quality bicycles and associated parts and accessories (XLC). Employing over 3,000 people across 18 countries, Accell Group manages a strong portfolio of national and international (sports) brands, each with its own distinctive positioning. In 2018 the company sold 1.1 million bicycles, realising a turnover of €1.1 billion and a net profit of €20.3 million. The bicycle brands in the Accell Group stable include Haibike, Winora, Ghost, Lapierre, Babboe, Batavus, Sparta, Koga, Diamondback and Raleigh. They are manufactured in several locations in the Netherlands, Hungary, Turkey and China.
Bicycles, and particularly e-bikes, are increasingly being seen as a key contributor in addressing issues such as urban congestion, hazardous city traffic, rising CO2 emissions and our desire to live healthier lifestyles. For this reason, the bicycle market represents excellent potential for further worldwide growth.
"Given that we focus on new, clean and safe mobility solutions, we are certainly in the right business in terms of market potential," agrees Jonas Fehlhaber, Treasurer at Accell Group. "Furthermore, there is a growing trend for large cities to adapt their infrastructures to offer cyclists more space and make them safer."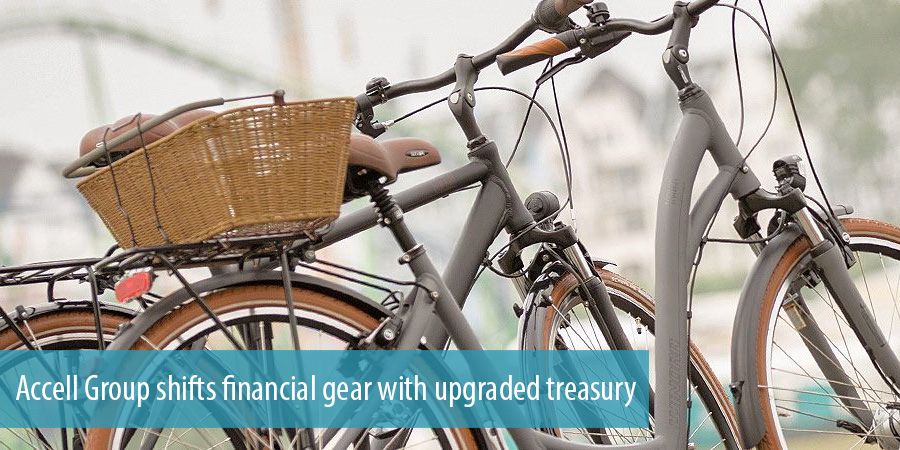 Omnichannel approach
Initially, Accell Group was a small holding company with decentralised management. Fehlhaber joined the Group in 2013 as its first treasurer, but his responsibilities soon expanded to encompass cash management, currency risk management and credit insurance. At the same time, the structure of the company changed. Based on a new strategy defined in 2016, the most important change was that the company wanted to shift from a manufacturing-driven approach to a consumer-centric one. In other words, everything must revolve around the consumer.
"In the past our sales channel was mainly defined by the dealers, but now, thanks to experience centres and the use of e-commerce, this is changing into an omnichannel approach," says Fehlhaber. "The dealers still play the most important role, but with more and more functions being provided centrally, the size of the holding has grown substantially. For the past two-and-a-half years we have had a strong supply chain organisation, and our finance team, just like the Treasury, has expanded."
Treasury roadmap
After centralising several components and rationalising the bank portfolio, Accell asked Zanders to carry out a quick scan of the Treasury department. In the context of this scan, the treasury function was examined and several potential risks and possible improvement areas were identified. "To further professionalise the Treasury, we worked with Zanders to start a project in 2017 to establish a treasury roadmap," says Fehlhaber. "In this project our strategic goals, along with what we wanted to achieve with them, were laid out. All in all it was an intensive undertaking in which all the respective processes were documented."
The outcome was reconciled into three pillars: organisation, systems and treasury policy. To limit the organisational vulnerability of what would otherwise have been a single-person department, Accell used Zanders' Treasury Continuity Service (TCS) and appointed an additional treasury employee. An element of the Treasury Continuity Service is a TMS, Integrity, with which processes can be automated and standardised, while risks are simultaneously minimised.
"The Treasury Continuity Service allowed us to implement the system quickly, without the need to go through an RfP [Request for Proposal] process," says Fehlhaber. "Zanders had already made advance agreements with the supplier, FIS, giving us a partially pre-configured system that could be quickly implemented. Moreover, the support days that we are allocated can be used for advice, for example, or if there is temporary understaffing. We acted on the advice to start up our new payment hub, from the RfP to the actual selection and, if necessary, the implementation too."
The final improvement was to set up a comprehensive treasury policy, which has injected more structure and transparency into the daily treasury activities.
"A treasury management system is more complete and interactive, and the transfer is much easier"
More complete and more interactive
The new TMS and the extra support have meant that Accell's treasury department is now less vulnerable. "While Excel allows you to work flexibly, sharing information is more difficult because it is much more personal," continues Fehlhaber. "The owner of the Excel file will be aware of all the details, but issues can quickly arise during transfer. A complicating factor is that there is no audit trail in Excel, making it generally more risky to work with."
"A TMS, on the other hand, is more complete and interactive, and the transfer is much easier. It has more functionalities and provides daily bank updates, so you always have a good overview of your latest cash positions. What's more, it records all transactions, such as FX instruments and bank- and inter-company loans, with settlements being done from within Integrity. Above all, though, the TMS offers the option of creating bespoke reports, which in itself saves a lot of time."
Payments via TIS
A key requirement of Accell was for the payment landscape to be organised more efficiently and controlled more centrally. "What we tend to see is that corporates have masses of bank cards, for everyone involved in the authorisation of payments," says Zanders director Lisette Overmars. "Not only is this very inefficient, it also makes it difficult to effectively manage these processes centrally. This is why Accell decided to implement a payment hub solution [TIS; Treasury Intelligence Solutions]. The payment hub serves as an interface, to replace the banking applications. A further advantage is that TIS offers the option of single sign-on, greatly improving the on-and off-boarding process for users."
Rolling out a TIS project takes between 18 and 24 months. It is a separate system to FIS Integrity, but they are connected in terms of infrastructure. "Bank statements arrive through the payment hub and then interface software distributes them to the systems that need the information, such as the ERP system and Integrity," explains Fehlhaber. "Furthermore, all systems are fed current market data from our terminal, while payment files, for example, are sent from Integrity via TIS to the bank."
The road to the future
The increasing need to reduce exhaust emissions in major urban areas is fuelling further growth potential for the bicycle market. "The market is still growing," agrees Fehlhaber, "especially when it comes to e-bikes. We are focusing on the mid- and upper-market segments and doing particularly well with the so-called e-performance bikes, the power-assisted mountain bikes catered for by brands such as Haibike, Ghost and Lapierre."
In 2018, Accell acquired Velosophy, a fast-growing innovative player in e-cargo biking solutions that serves both consumer and business markets. The Velosophy stable includes Babboe, the market leader in Europe for family cargo bikes, CarQon, the new premium cargo bike brand, and Centaur Cargo. The latter of these three is a specialist in B2B cargo bikes for the so-called 'last-mile deliveries'. These are typically to locations that are either impossible or very difficult to reach by car, such as city centres, for example. The acquisition of Velosophy has enabled Accell Group to accelerate its innovation strategy, which is focused, among other things, on the development of urban mobility solutions.
Bicycles are becoming increasingly bespoke products, reveals Fehlhaber. Mobility as a service (offering a service concept rather than just a bicycle), lease options or special, self-selected elements are all maintaining the current momentum in the bicycle market. "The once-humble bicycle has evolved into a true lifestyle product," insists Tjitze Auke Rijpkema, who joined the treasury team in 2018. "Smart internet technology and handy connectivity apps are further enriching the cycling experience and making bicycles better and safer in all kinds of ways. Just like treasury, the bicycle is constantly moving with the times."