Porsche Consulting passes €200 million revenue barrier
Porsche Consulting has doubled its revenue in the last four years, to surpass the €200 million mark for the first time. According to the firm's Chief Executive Officer, the firm intends to further ramp up its expansion in the coming 10 years.
In the early 1990s the automotive industry was in trouble, and as a major player in the market, this was keenly felt at Porsche. The firm at the time was wasteful and poorly structured, while its manufacturing centres often required workers to climb around shelves to get the right pieces.

In response, Porsche's new boss, Wendelin Wiedeking, decided to streamline the production process, cut costs and reduce waste. In order to oversee this approach, 1994 saw the company launch an internal consulting department dubbed 'Porsche Consulting,' and the group worked successfully to improve the operational efficiency of production and the organisation. The rest, as they say, is history.
After the unit managed to successfully guide Porsche through one of the largest restructuring exercises in its history, Porsche's management decided to make the brand's consulting expertise available externally. In the years since, Porsche Consulting has grown well beyond its initial four-strong team based in a small office in Zuffenhausen.
Today, Porsche Consulting is one of the world's leading operations consultancies, specialising in lean transformation and digitisation; it has 670 employees across offices in Germany (Stuttgart, Hamburg, Munich, Berlin, Frankfurt), Milan, Paris, São Paulo, Atlanta, Belmont, Beijing and Shanghai.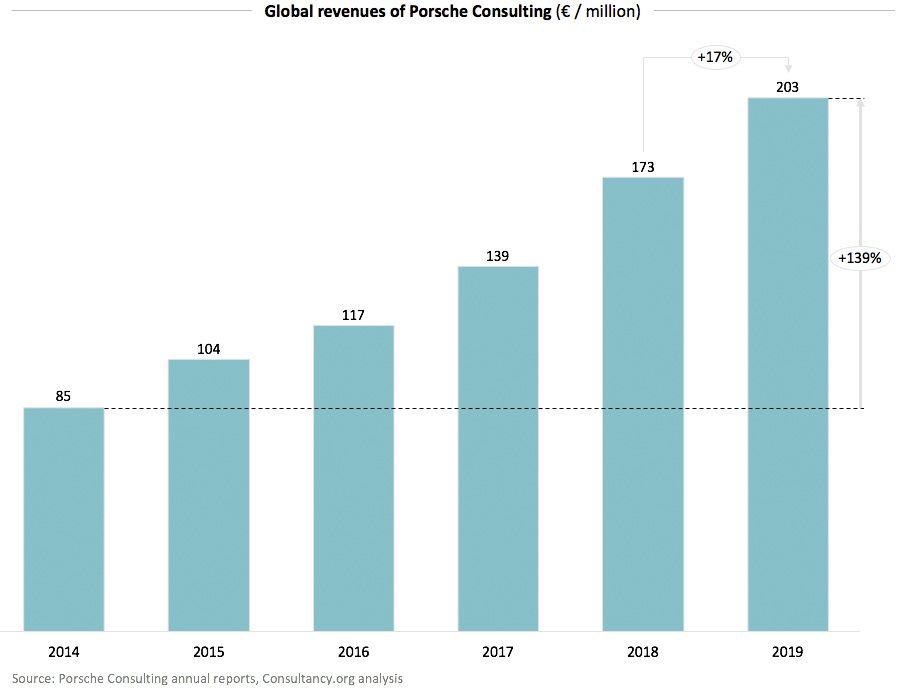 Not surprisingly, the firm has a strong track record in the automotive sector, but also supports clients in a range of other mainly capital-intensive sectors such as aviation, consumer goods, mobility and industrial manufacturing. Among its clients are large companies such as Audi, BMW, Porsche, Bombardier, Delta Airlines and Goodyear. This has been the base from which the firm has built its sustained success from – particularly in the past five years.
2015 represented the first time Porsche Consulting broke through the barrier of €100 million in annual revenues, and on the back of four years of double digit growth rates, the consultancy has managed to double that amount since then. However, according to Porsche Consulting CEO Eberhard Weiblen, the firm will not rest on its laurels now.
Porsche Consulting aims to grow even bigger in this new decade. This is being realised through organic growth in existing offices, but also the opening of new offices. Earlier this year for example opened new opens offices in France and China.
Investing in innovation is also part of realising this strategy, exemplified by the firm recently opening an Innovation Lab in Berlin. Weiblen: "What matters today are the power and speed of innovations. In our Lab, we help clients use leading-edge technology to create innovative business models as well as product and service concepts within a very short period of time.".