Alvarez & Marsal bolsters Spanish practice with 60-strong EY team
Alvarez & Marsal has significantly beefed up its financial services and digital practices in Spain with the addition of a 60-strong team from Big Four firm EY.
The team carve-out from EY (and EY-Parthenon) sees Arturo Derteano, Pablo Palma, Julio San Jose, José Luis García Ortega, Pablo Sainz, Ventura Palmerola and Manuel Pingarrón along with over four dozen members of their teams join Alvarez & Marsal's Madrid office.
"The expanded headcount is in direct response to the market's needs," said Fernando de la Mora, a Managing Director at Alvarez & Marsal and Head of the Spain and Portugal region (and a former Big Four partner).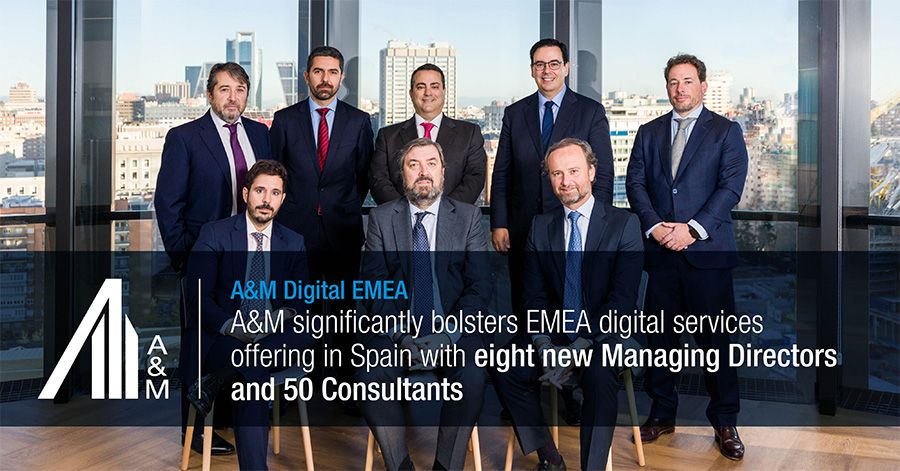 The new 60-strong team serves the financial services industry, with members integrated into the various service lines with Alvarez & Marsal including risk and regulatory, transaction, performance improvement and digital. "Our team will improve our ability to advise financial institution on topics such as new business models, revenue generation and transactions," said De la Mora.
One of the key focus areas of the joining team is digital transformation. Jean Laurent Poitou, a Managing Director with Alvarez & Marsal and Head of the Digital Services business across EMEA, on the added capabilities: "Many financial institutions have struggled to deploy and realize the full benefit of digital technologies. The team hire demonstrates our commitment to help clients leverage digital technologies to transform their financial performance and maximise their growth opportunities."
The digital track record of the team includes digitising processes of a leading Spanish bank, developing a blockchain platform for a global asset manager's fund distribution, helping clients explore disruptive technologies such as blockchain and crypto currencies, and supporting banks with IT strategies and execution," said Poitou.
"The move also reinforces our strategy of bringing an integrated offering. Our team in Spain can now bring management consultants, data scientists and data engineers, together with pure-play digital talent for a differentiated offering that creates long-term success for clients," he added.
Commenting on why the EY team crossed over to Alvarez & Marsal (a smaller but audit-free rival), spokesperson Arturo Derteano said: "Alvarez & Marsal's legacy of operational excellence helps clients turn challenges into business opportunities. Overlaying the firm's operational heritage with new perspectives, derived from using new technologies, allows us to develop solutions rooted in in-depth industry knowledge, the end customer's needs and priorities and digitalization know-how."
Alvarez & Marsal, a US-headquartered consultancy, has been active in Spain for close to a decade. Last year, the firm launched its Transaction Advisory unit in Spain, a year after it launched its Financial Restructuring practice in the country.