Electrical vehicles trend driving ahead across Europe
A wave of disruption is currently sweeping through the automotive industry, with technology, sustainability and changing consumer preferences at its core.
While the Covid-19 crisis is currently disrupting the automotive industry, many argue that the real disruptive forces were already present in the industry and the pandemic only accelerated their emergence. One major trend that was already on the rise pre-Covid-19 and that will continue to shape the post-Covid automotive world is electrical vehicles.
In this article, experts from Romanian IT consultancy and software development specialist AROBS expand on the trend:
The growth of electric vehicles
Last year, more than 2 million electrical vehicles were sold worldwide, and it is expected that by 2030 this will rise to 21 million. As it stands, there are according to IEA around 7.2 million 'green vehicles' on the road across all corners of the globe.
The growth of electrical vehicles is driven by a number of factors. First, consumers are becoming increasingly aware of sustainability and the impact of combustion-driven vehicles on the globe's carbon footprint. This in turn is incentivising car manufacturers to expand their suite of electrical vehicles. In the footsteps of Tesla, all major brands today are bringing electrical vehicles to the market.
Demonstrating the shift in consumer mindset, data from IEA shows that while the sales of cars has nosedived during the Covid-19 pandemic, electrical vehicles sales were the least affected. Meanwhile, a study by PwC and Strategy& concluded that that corona crisis is appearing to accelerate the transition to electrical driving.
Meanwhile, government are playing their part too. The number of countries that are banning diesel cars and vans is growing. Madrid, Athens, Paris are planning a total ban by 2050. And cities like Helsinki and Copenhagen have already started their transition at a more rapid pace. Frontrunner Norway announced back in 2017 that it will totally ban the sales of diesel and internal combustion engine powered vehicles by 2025.
The growing volume of electrical vehicles being manufactured is unlocking to cost efficiencies for manufacturers and OEMs. According to a 2019 study by Deloitte, by 2022 the cost of owning an electric vehicle will equal that of owning a car driving on diesel or benzine. This effect will serve as a catalyst for further uptake of electrical vehicles.
Further reading: Shift to electric vehicles is starting to take off as production ramps up.
Europe's regulatory environment
Regulatory is another driver of more sustainable driving. In 2019, the European Union introduced new standards for CO2 emission for new passenger cars and vans, which went into effect on January, 1st 2020. These are expected to reduce greenhouse gas emission by 23% (road transport) by 2030, saving an average €1,100 over a lifetime for a new car bought in 2030 and almost €4,000 for a van.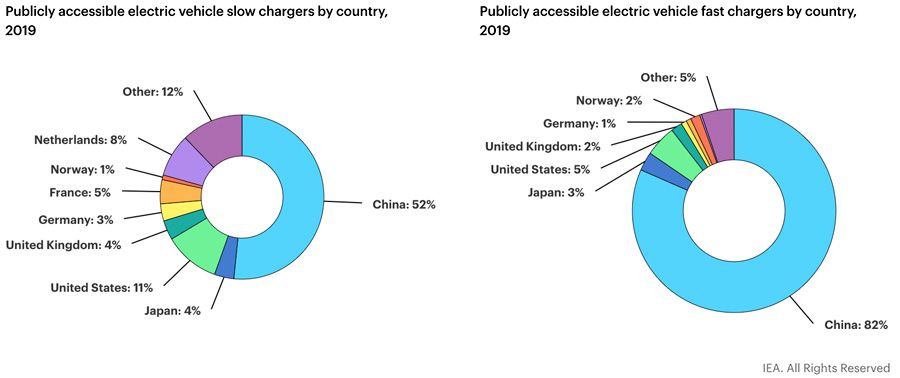 The regulation is part of a broader push for sustainability by Europe's policy makers, with zero-emission mobility the ultimate goal. Progress is pursued in steps, with 2030 the first major milestone on the agenda. In a decade's time, CO2 emissions across industries in Europe is planned to be 43% lower compared to the level of 2005.
Technology advancement
One of the main factors holding back a major uptake of electrical vehicles is the driving radius of existing batteries. There are two main types of electrical vehicles: battery electric vehicles (BEV) that use only batteries for energy storage and must be plugged in to be recharged, and plug-in hybrid electric vehicles (PHEV) that have both batteries and liquid-fuel storage systems and that can either be plugged in or refuelled with liquid fuel.
Currently, existing batteries can have a range of around 500 to 600 kilometers, and need a recharging time of up to 45 minutes. However, according to the latest research, new battery technology (based on Lithium ion batteries) could enhance radius while speeding up the charging time. Meanwhile, enhanced technologies can improve the longevity of batteries, which is a key determinant of residual value of cars.
Another area where technology is proving a key enabler of electrical driving is the engine control unit (ECU). A modern electrical vehicle has around 100 ECUs, and they operate on the back of several technologies and layers of integration. Meanwhile, technology is the linking pin between cars and charging stations, and between cars and manufacturers that track performance for predictive maintenance purposes.
The growing role of technology and software development has seen OEMs shift the focus of their research & development, design and build to tech-savvy regions, with the Central and Eastern Europe (CEE) region a key beneficiary of this trend. According to a recent report by McKinsey & Company, "the high cost of and competition for software and R&D talent is one of the biggest structural challenges for Western European automotive companies."
With more than 6.5 million ICT specialists in the region, compared to for instance 8 million in Germany, CEE is ideally positioned to serve as a key hub for digital-driven innovation. Poland, the Czech Republic and Romania are considered to be best in line to tap into the unfolding opportunities.