Assystem acquires Belgian life sciences firm The Biotech Quality Group
International engineering group Assystem has acquired a controlling interest in The Biotech Quality Group, an advisory firm for the life sciences industry. As part of the deal, a team of around 40 employees in Belgium, Switzerland and France transfer to Paris-headquartered Assystem.
With over 12,500 employees across the globe, and generating just under €1 billion in revenues (€956 million), Assystem, which is listed on Euronext Paris, is one of Europe's larger engineering consulting companies. The company works for, among others, large industrial corporates in aerospace and aviation (Airbus, EADS, Safran), automotive (Peugeot, Renault, Rolls Royce), energy (EDF), transport (Alstom), as well as for OEMs to industrial groups (General Electric, Thales).
Assystem has in recent years been on an acquisition spree, as part of the group's strategy to grow its market share in the globe's consolidating engineering consultancy landscape. In May this year, Assystem purchased Engineering Partner in Sweden (based in Gothenburg), a move which came two months after it picked up a majority stake in Envy, Turkey's first nuclear power-plant field engineering company, and acquired Automotive Solutions, a German company specialising in the design of automotive lighting systems. Last year, the French-origin group bolted-on enterprises in the UK (Birmingham based Edison Technical Recruitment), and in France (BATIR Group), while in 2015 the firm took a 75% stake in Saudi engineering company Radicon Gulf Consult.
The latest addition to Assystem's footprint is The Biotech Quality Group (BQG). Founded in 2011, BQG specialises in performance management and regulatory compliance in Europe's pharmaceutical and biotech industries. Over the past six years the Brussels-headquartered company has developed a range of methods and tools aimed at increasing the maturity and transforming the practices of the (bio)pharmaceutical industry, reducing time to market and production stoppages, to more effectively manage and remedy crisis situations. Service offerings combine consulting propositions, including advisory and value creation, with quality and project management and continuous improvement, supported by proprietary intellectual property and tooling (eg. the firm's Apollo Maturity framework and scan).
The firm's growth had not remained unnoticed – last year, BQG was nominated by EY for its annual 'Enterprise of the Year Awards' in Belgium, together with Citius Engineering, eRowz and Real Impact Analytics, three other fast growing Belgian companies.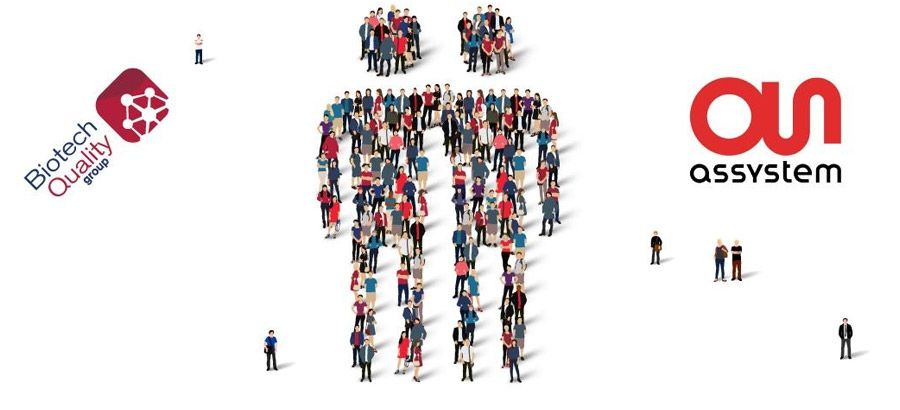 Commenting on the decision to join Assystem, Fabrice Dekoninck, one of the four co-founders of BQG* and CEO, said, "We share the same project-focused culture in a highly-regulated industrial environment as well as the ability to work closely with our clients based on a true relationship of trust."
The Biotech Quality Group, its co-founders, employees and its offices in Belgium, Switzerland and France (launched in July this year) will be integrated into the Life Sciences arm of Assystem – the division which specialises in the operational aspects of commissioning, certifying and validating drug and biopharmaceutical production lines, and with supporting manufacturers with compliance to regulatory requirements. "The combination of our teams and expertise will enable us to offer the market a one-of-a-kind service offering, with integrated solutions across the whole drug life-cycle," remarked Dekoninck, who has been appointed CEO of the newly combined entity.
Adding to Dekoninck, a spokesperson from Assystem said, "The acquisition significantly moves Assystem forward in the implementation of its Life Sciences strategy of becoming a European leader in the areas of commissioning, certification, validation and regulatory compliance in the pharmaceutical and biotech industries in Europe and at further developing its Life Sciences engineering activities."
Advised on by Equiteq
The deal between the two parties was supported by Equiteq, a global M&A consultancy specialised in the professional services sector. "We chose to work with Equiteq because of their deep expertise in the consultancy sector," explained Philippe Kalmbach, co-founder of BQG. Since launching in 2006, Equiteq has advised on nearly 400 strategic advisory and M&A transactions in the consulting industry, the firm also provides executives in the industry with thought leadership on deal and divestment trends and opportunities.
Commenting on the firm's role in the transaction, Ed Groome, a Director in Equiteq's London office, stated, "This is a significant transaction for our client which leverages the commercial, technical and organisational synergies between BQG's activities and Assystem's existing operations in the Life Sciences sector. The transaction enables BQG to strengthen its position in its current markets, expand its services to provide clients with an end-to-end offer to address the major industry challenges, and creates a strong platform for future growth into new markets."
Earlier this year Equiteq advised on among others the sale of property consulting McBains Cooper to RSBG, and the merger between GNC Group and Grant Thornton in Australia.
Looking ahead, Dekoninck says that he is excited by their future prospects, "A huge thank you to our employees, customers and partners. We owe you so much! I look forward to writing with them the second chapter of this amazing story within the Assystem Group!"
* The four co-founders of BQG are Fabrice Dekoninck, Yvan Gouttebelle, Philippe Billaud and Philippe Kalmbach.