Amsterdam and Stockholm lead the way for urban mobility in Europe
Amsterdam and Stockholm have been named as two of the world's leaders in sustainable transportation and urban mobility. In a report by Arthur D. Little which looks at the the future of urban mobility in 100 cities worldwide, the Dutch and Swedish capitals scored second and third in the rankings, just missing out on the first place to Singapore.
The report, titled 'The Future of Mobility 3.0' by Arthur D. Little, looks at how cities globally are tackling the mobility challenges that are arising on the back of population growth and congestion and identifies opportunities for rapidly urbanising cities. The authors highlight the need to put citizens' needs at the centre of urban mobility technology and adaptation policies, outlining three key areas which impact urban mobility in growing urban ecosystems; the maturity and performance of existing infrastructure and innovation driven strategy.
Both Stockholm and Amsterdam have retained their spot in the 'Urban Mobility Index', coming in at second and third respectively. Having both put in place adequate infrastructure in order to deal with growing mobility issues whilst being at the forefront of innovation and technology, the two European cities have set a benchmark for similar sized cities worldwide.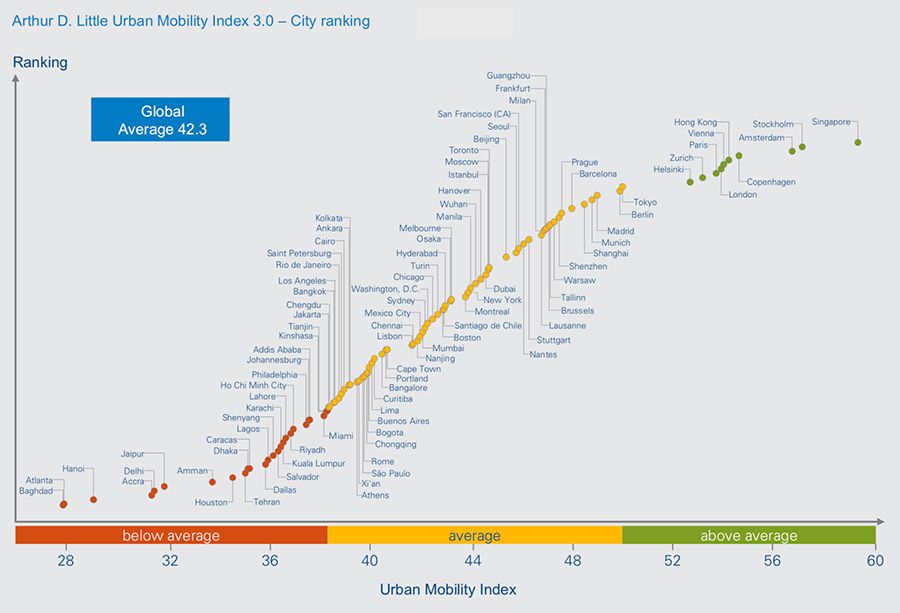 The capitals are appraised by the consulting firm as world leaders in sustainability transport and are considered to be within the category of "smaller innovative cities" in the report. This is in contrast to cities including London and Paris which are "mega-cities" or cities with close to 10 million people or above. However, both Amsterdam's De Pijp and Stockholm's Southwest Södermalm are two of the most densely populated areas in Europe, both boasting upwards of 20,000 residents per square kilometre.
With such high population density within the city, a range of mobility issues are due to appear, including a lack of public transport, congested traffic situations and air pollution to name a few. The 29 European cities investigated are economically well situated to deal with these issues and as such they rank quite highly in the report overall, especially in regards to transport safety and the prevalence of cycling networks. Europe also scores highly in mobility technology with car sharing, ride sharing and bike sharing platforms boosting scores across the major innovators.
Stockholm scored number one in the performance ranking, came second in the maturity ranking and ranked sixth in the innovativeness worldwide. The city is the safest city in the world in terms of transport related accidents with a low score of 4.7 fatalities per million citizens. The global average is 61.4 fatalities per million citizens.
The crowned European city also has a desirable divide between journeys on public transport (33%), in vehicles (34%) and either walking or cycling (34%). Stockholm's smart and connected city plan includes a range of initiatives including smart traffic management, traffic-light priority for buses, a congestion-pricing system and smart lighting for bicycle paths.
Amsterdam is a world leader in non-motorised transport (NMT) with just under 60% of journey's being made by cycling or walking. The city also has an extremely low level of car ownership, especially for a city with a per capita GDP of over $25,000. The city sees over 2 million kilometres cycled each day and has the second highest penetration of share-cars around the world.
Amsterdam has one of the worlds most comprehensive smart city initiatives which includes smart waste collection, smart parking, smart crowd management, smart city logistics and a high level of electric charging stations throughout the city. The Dutch capital is also trialling self-driving vehicles and piloting autonomous buses, shuttles and even autonomous boats.
Europe is seeing some of the most concerted efforts by governments to change the transport habits of citizens. However, there still is (significant) room for improvement, especially in regards to the cost of public transport. Over-congestion may be one of the driving factors pushing people to find other methods of transport, leading to maturity in other parts of the index. St. Petersburg, Athens and Rome are the worst scoring European cities, on par with for instance Bogotá, Cape Town and Bangkok in their scores.
Outside of Europe, there is a distinct lack of maturity in mobility systems in general. None of the cities which are situated outside of Europe reached 50% in maturity potential. Whilst Europe has a score of 58% when it comes to performance and 28% in innovation overall, both leaders in their class, the continent still has a long way to go. Behind Europe in the index came Asia/Pacific, with Singapore topping this year's charts followed by North and Latin America respectively. Africa and the Middle East brought up the rear in this year's index.